January 18, 2008
0

found this helpful
From what I have always been told it doesn't give him the correct nutrients that he requires. What I have found for my doxie is a dog food that the pieces are smaller in size than a pea. I think a lot of what your dog might like about the cat food is the size of the pieces. It is probably easier for him to chew.
By Me (Guest Post)
January 18, 2008
0

found this helpful
Cats & dogs should NOT eat each other's food. It's bad for both of them. You will have to find something else he likes. I don't remember why it's bad for them but you could look it up on-line. Keep their food separate so there's no way they can get at the other's.
January 18, 2008
0

found this helpful
Every dog loves cat food! However, cat food is formulated for the vitamin and nutrient needs of cats, not dogs. Your dog really needs to eat dog food to ensure that his health is maintained and the protein requirements are in the correct range.
Cat food tends to be very high in protein which can cause kidney issues, as well as increased risk for Pancreatitis. Not to mention the excess in calories!! Most Doxies battle weight issues, so cat food can only increase the problems.
January 18, 2008
0

found this helpful
Yes, all dogs love the cats food. But yeah its not nutritionally correct for them. Therefore, we feed our cat on the table. She knows to not get up there when we are eating, and shes never been allowed to beg so it works out fine for us. In the past, I've also used a high stool for one of my cats where the dog could not get it.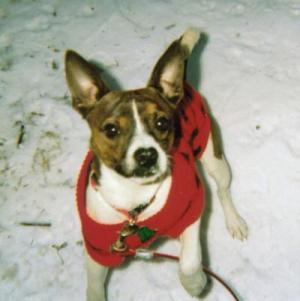 January 18, 2008
0

found this helpful
We read that if a dog is lost & you must bait him back with food, you should use the stinkiest type of cat food you can get. Often this would be canned cat food. In comparison to dog food, dogs might like the more pungent smell of even the dry cat food, in addition to the smaller size of the morsels. BUT it is NOT good for them & is HARMFUL, except in the case of luring the lost dog.
Cat food does not provide dogs with proper nutrition, contains too much protein & calories, often causes kidney & other health problems. For similar reasons cats should not eat dog or other animal food either. Animal foods are manufactured to meet the specific needs of the animal for which they are made.
January 18, 2008
0

found this helpful
From what I remember, cat food has too much protein for dogs and can cause serious kidney problems. My big dog is the same way, and will do anything to get to it because the food is so appealing to dogs..
January 18, 2008
0

found this helpful
My little Maltese ate mostly cat food for her whole life. She lived to be 18 years old. I would give her canned dog food but let her eat the cat food as kibble.
The vet said, it wasn't the best but that it was worse for the cats to eat dog food than the dog to eat cat food.
Susan from ThriftyFun
By Susan W. Gompf (Guest Post)
January 23, 2008
0

found this helpful
Definitely discourage this by keeping the cat food where your dog cannot get it. It does not have the nutritional ingredients correct for your dog. If you want to use it as an occasional treat, fine, but do not use it as your dog's primary food.