It's been 2 weeks and these bites keep coming back. First there were 3 and now theres 2 more new fresh bites. It hurts when I touch around it and water-like fluid comes out every time to time. I can't sleep and now I'm 100% paranoid to sleep in my own bed. I have washed my sheets with hot water and bleach.
I have even tried cleaning my mattress with Clorox hoping maybe itwill kill any bugs. My room is by a huge window and I am not sure if these bites are a spider or mosquito. I live in San Diego so we get all sorts of funky bugs around here. Please help I'm so sleep deprived :(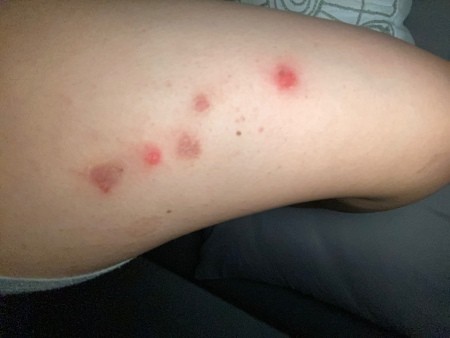 May 30, 2020
0

found this helpful
Best Answer
Several questions:
How long have you lived in this place?
Are you renting/buying?
Is this your furniture or do you rent with everything furnished?
Have you been away somewhere (anywhere?) that you could have brought bedbugs home with you? In your clothing?
All of these questions will determine how drastic your next move will be to get rid of these bugs.
If you are renting and brought your own furniture (where did your mattress come from?) then you are responsible for exterminating the bugs and if you cannot do it yourself then you will have to hire a 'bug' man and pay the high cost to do this job.
If you are renting - with furnishings - and have not lived there very long (one month maybe) then your landlord will have to hire the bug man and furnish you a place to live while it's being done.
You will most likely have to get rid of the mattress and maybe even box springs as this is the biggest hiding place for bedbugs.
You should go to your local pharmacist/drug store and show them the bite marks so they can recommend a good medicine that will heal and stop the itching.
Do that ASAP before serious infection sets in.
There are some DIY solutions but require doing everything mentioned as these bugs know no limit as to where they hide.
There are many sites on the internet to show you different methods to get rid of the pests but you will have to decide which method you can do or if you can get someone to help you.
Here are some good links but there are lots more if these do not seem to be doable for you.
www.doyourownpestcontrol.com/bed-bugs.htm
www.youtube.com/watch?v=Ik6ZVe1YXlo
haydemon
Gold Answer Medal for All Time! 617 Answers
May 30, 2020
0

found this helpful
Best Answer
cybergrannie asks excellent questions.
if would be good to identify if it is a bedbug infestation because that requires serious intervention.
another thing is, whatever this bug is, you are having a serious allergic reaction. You may need to, just for your peace of mind, go to a dermatologist who might prescribe prednisone, or just get some bug bite ointment at the pharmacy.
I have known people who have eradicated a bedbug problem by themselves, but it either involved
1) spending $600+ on pesticides, a brand new HEPA vacuum cleaner with bags, and a specific steam cleaner that goes up to 200 degrees, or
2) renting out a POD unit, putting every last personal belonging in there, and cranking up tons of space heaters to raise the temperature of all the belongings above 200 degrees. And I mean, every last thing. Except for electronics which heat will destroy which you can then treat with diatomaceous earth and quarantine inside large ziploc bags for a long time.
so at the end of the day you see you can't avoid a huge effort and expense