These meals are intended to be a relatively simple and healthy weeknight meal for a family of four. We assume that these dinners are being made in a kitchen stocked with regular kitchen staples. We will not include prices of oil, sugar, flour, spices, etc. unless you need a 1/4 cup or more. Regional food prices may vary and can be reduced by smart shopping techniques.
Shopping List
1 pound ground beef
(or use a beef/turkey mixture)
$2.59
1 medium onion
$.99
1 head garlic
$.50
1 28 oz. can of whole peeled tomatoes
$1.63
1 6 oz can tomato paste
$.89
1 package spaghetti*
.99
2 apples
$1.50
1 loaf French bread
$.99
Total Cost = $10.08
*I used some flat noodles (fettuccini?) that I had on hand so it isn't technically spaghetti but we still call it that.
Staples
Cooking Oil
1 Egg
Bay Leaf
Italian Seasoning
Directions
Chop onion and mince or press 4-5 garlic cloves, more if you would like to make garlic toasts with the loaf of bread. Set aside 1/2 cup of onion and 2 cloves of garlic for meatballs. Take a Dutch Oven or large frying pan and cook the rest of the onion and garlic in 1 Tbsp. of oil until softened. Add the tomatoes, including juices to the pan. Add 1 Tbsp. of Italian Seasoning, 1 bay leaf and salt and pepper to taste.
Cook on medium high, stirring regularly until the tomato sauce comes to a boil then reduce heat and simmer covered for at least 30 minutes, stirring occasionally. This can cook longer and will be even better as it cooks. As the tomatoes cook down, you will want to crush the whole tomatoes to make a smooth flavorful sauce.

At least 30 minutes before you would like to eat, mix ground beef with 1 egg, 1 cup of breadcrumbs (1 slice of the bread, lightly toasted and crumbled or chopped), salt, pepper and the reserved onion and garlic. I mix it with my hands, like making meatloaf. Make small balls, under 1 inch, and place on a cookie sheet. Bake at 375 degrees F for 10 minutes, turn them over and bake for another 10 minutes until no pink remains. Or you could brown them in cooking oil, if you prefer. Add cooked meatballs to spaghetti sauce and cook for about 10 more minutes. Serve over cooked spaghetti or whatever pasta you have on hand, with garlic toasts and apple slices.
Tips: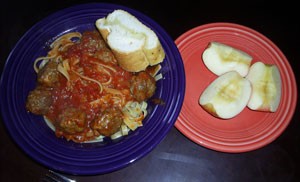 Homemade bread or homegrown tomatoes would be less expensive.
If you need a quicker dinner, just brown the ground beef with the onions and garlic.
You can substitute a jar of spaghetti sauce for about the same price. Just add it instead of the tomatoes and spices.
You could substitute a bagged salad for the apples for about the same price.
If you would like a vegetarian meal instead, substitute the ground beef for 1 pound of button or crimini mushrooms. Brown them whole to mimic the shape of the meatballs or slice them and cook with the onions and garlic.