As the youngest of 5 sisters, my frugal life began with hand-me-down clothes, even when I didn't quite yet fit in them.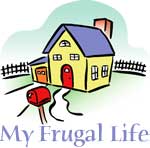 As I grew, my mom made sure I was FRUGAL, by not wasting any food on my plate! Growing up in a working class family and without an allowance, I learned to live without some little things kids want but I learned to create them when I did!
When I started my first job, my parents made sure I understood frugality by charging me a small RENT of $20 to learn to save some of my paycheck every week!
I frugally got married in a small wedding and a backyard cook out reception. None of this CRUISE stuff for frugal me!
Later I, had three kids and 'frugally' ate anything they didn't finish off their plates. I'd learned my lesson well!
We shopped at thrift stores for clothes for them growing up. Now it's the fashionable thing for all college kids to do. THEY weren't that impressed that we were 'trendsetters' at the time!
The flowers that graced my table were the ones picked by my little ones chubby fingers (usually from my own flower patch) but they couldn't have been more loved if Teleflorist created them for me.
My ART collection consisted of crayon and fingerpainted masterpieces that I still treasure! I am sure Antique Roadshow would be very impressed with my priceless Folk Art!
I am growing old gratefully, gracefully and 'gray-fully', choosing not to waste money and time on hiding up some of the most beautiful strands of silver I have ever owned, my hair!
:D
By Donna
Do you have a frugal story to share with the ThriftyFun community? Submit your essay here: http://www.thriftyfun.com/post_myfrugallife.ldml