Making Seasonal Refrigerator Magnets
Solutions
Share on ThriftyFunThis guide contains the following solutions. Have something to add? Please share your solution!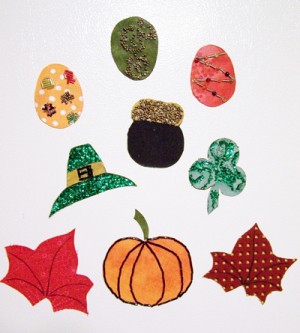 What to do with those advertising magnets; that is the question? Let the kids make holiday decorations for the refrigerator out of them; that is the answer!
Approximate Time: 10 minutes
Supplies:
advertising magnets or thin sheet of magnet
fabric or cardstock for holiday decor
tacky glue
fusible web or spray glue
heavy scissors
iron
seed beads
glitter
yarn
cardboard for pattern
pencil
patterns or draw your own
Instructions:
Either draw your patterns (you could print out the photo for my patterns): Easter eggs, shamrocks, elf hats, pot of gold, fire crackers, Uncle Sam hat, turkey, pumpkin, fall leaves, jack-o-lantern, black cat, ghosts, you get the idea. Anything will work just make sure you have the fabric or cardstock to match the character.

Perhaps you want to put a child's face on a magnet. No matter what shape you are making the directions from here on out are the same.

You can use spray adhesive instead of fusible web, it works wonderfully and no one will get burned. It is a little messy, but if you lay paper out and spray the sheet of magnet, apply fabric, let it dry and then cut out your shape it isn't bad. You will then trace your pattern on your magnet with ink and cut inside your line.
Cut out his or her face, or what ever shape you are working with. Trace it onto the fusible web and cut it out leaving about 1/4 inch around the pattern. Fuse this to the wrong side of your fabric; cut out on the lines. Now peel the paper off and fuse to a magnet. Be careful if your magnet has writing on it, place paper towel between your iron and the magnet. Remember it doesn't take, but a few seconds to fuse the web. After you get it all fused together, cut out the shape and you are ready to decorate.
Using your tacky glue draw lines and apply your beads, yarn, glitter, or whatever. If you use glitter you will want to seal it after it is dry with a couple of coats of thinned tacky glue or it will continue to shed. Use fabric pens, but be sure to test them of fabric before using on your magnets some pens spread and you don't want to ruin your child's work.
Note: Don't glue on large beads or rocks as the magnets aren't strong enough to hold them.
Make a set for each holiday and you can change them with the seasons.
By Ann Winberg from Loup City, NE
I thoroughly enjoy decorating for every holiday, but I hardly have money for expensive items. And this year, my employer is having me decorate the break room as well! I'm able to write off some things, but I decided it was more fun to make something for the fridge door. I wanted to incorporate every associate into the St. Patrick's Day theme. Making pots of gold was the easiest choice and turned out absolutely adorable. I might have to make more for home!
Total Time: 30 minutes
Yield: 3 pots & 27 coins

Supplies:
4 sheets of cardstock (2 yellow, 1 black, 1 purple)
scissors
pencil
1 black permanent marker (optional)
5-7 craft magnet strips
laminator with sheets
hot glue gun (optional)
1 milk or juice lid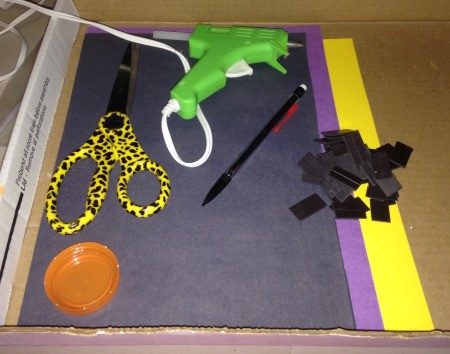 Steps:
Draw a 7-8 inch pot or cauldron onto the purple paper. Cut it out and trace two onto the black paper. Cut the black pots out and laminate all of them.
Use a milk or juice lid to trace onto the yellow paper for the coins. Trace as many as you want. I also added an extra curved line on the side of each coin to make them appear more 2-D.
Laminate the coins and cut them back out.
Cut the magnet strips into smaller pieces and attach to the back of all coins and pots. I used hot glue to add the magnets so they'd stay on longer.
You can place each pot on the fridge with coins above and around. The coins can be left blank, or you can write names on them. I used the permanent marker to add an associate's name to each one!
Related Content