September 28, 2006
0

found this helpful
Visit this site:
www.babyshower101.com
They have some neat ideas!!!
By Marisa (Guest Post)
September 28, 2006
0

found this helpful
I always love decorating with the tiny decorative pumpkins (they're real, but you don't eat them). A local farm in my area (Oregon) has them for $0.35/lb. They'd be perfect for a fall-themed baby shower! If it's closer to Halloween or Thanksgiving, even grocery stores will carry them. If that doesn't work, check a craft store for faux pumpkins and other squash/gourds. Even the decorative ("Indian") corn comes in mini sizes. I would just decorate for autumn, but mini-size everything. You can even use pumpkins (real or fake) as vases if you hollow them out.
Have fun!
By Carol Ann (Guest Post)
October 5, 2006
0

found this helpful
I threw a baby shower for my best friend about 6 years ago. The theme was more Winnie the Pooh - but my friends most favorite candy was candy corn so for one of the games I filled a baby bottle with candy corns and had the guests guess the amount then who was ever cloesest won a prize and my friend in turn got her fav candy. I also placed premmie sized or the very smallest disposable diapers at each guests place setting and put in some candy to help help the munchies while the mother to be unwrapped her gifts - since we didn't serve lunch/cake until after gifts were opened. Since this is fall you could do trick or treat bags instead of diapers or real cheap fall colored paper bags from party stores. Possibilities are endless! Have Fun!
By LRP LOWELL, MASS. (Guest Post)
October 6, 2006
0

found this helpful
I have a few ideas. #1 having a large fall maple tree paper wall mural with a cradle in it (rock-a-by-baby). #2 on the floor in a cornor a pumpkin patch with a few pumpkins and a doll or 2 (pumpkin patch dolls).
#3 a mobile of storks flying south with other birds for the winter (ex. geese)
September 14, 2008
0

found this helpful
I know this post is a bit older, but I came across the cutest fall baby shower decoration a few days ago and just had to share.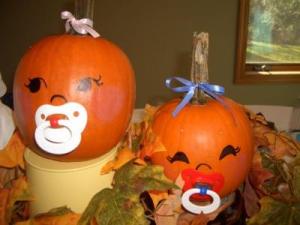 October 23, 2009
0

found this helpful
I am also giving a fall themed baby shower and so far i am just doing general fall decorations I already have, but i love the pumpkin pacifier idea. For my invitations i did a fall color scheme with the heading "So and So has a pumpkin in the patch" in a colonial looking font with a pumpkin stamp at the bottom. I also enclosed a leaf with where she was registered and how she was decorating her nursery.
For food I plan to serve seasonal fall foods, turkey paninis, fall fruit salad, a pumpkin shaped spice cake, hot apple cider, and brownies with cream cheese pumpkin swirled brownies cut in the shape of acorns and leaves and stuff.
I think I might do special pumpkin seeds as a favor but i haven't decided, we'll see. I would also appreciate other ideas.