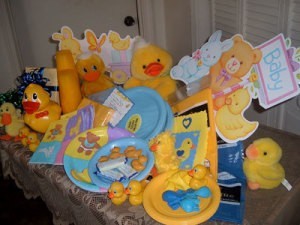 On July 3rd, I had a baby shower for a Niece. Being on a tight budget I have to STRETCH every dollar. She loves RUBBER DUCKS for the baby, so I chose this as a theme.
Plates, cups and napkins came from the Dollar Tree as did Tablecloths and miniature candy bar favors, for which I made outer labels saying IT'S A BOY!!
I molded tiny candy favors in the shape of Ducks. The stuffed animals and toys were all bought from yard sales and thrift stores. Invitations were made and printed using 33 cent cardstock paper and embellished with 33 cent ribbon. Total cost of decorating supplies and favors is $21.
I will bake and decorate a Suzi's Zoo cake and a sheet cake, which will cost about $5 and punch will probably be around $6. ESTIMATED GRAND TOTAL $32.00. PROOF that you can host a nice baby shower for under $35.00!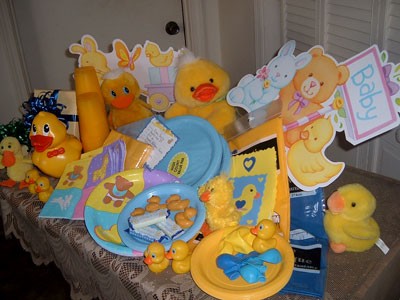 Sharon,Ky
Read More

Comments

I am throwing a baby shower for my niece with a Fall/Halloween theme, in particular a Rosemary's Baby theme. I have already thought about black baby buggies, but are there any suggestions as to decorations or any ideas or websites to make this gothic Halloweenish baby shower a hit?
She would like to give the shower a 1960s New York feel, the year and place Rosemary's Baby was filmed. And she doesn't want the color black overpowering the decor.
By Lisa from OH
Answers

Lilac
Silver Feedback Medal for All Time! 450 Feedbacks
April 22, 2010
0

found this helpful
Somehow, this seems disturbing.

April 22, 2010
0

found this helpful
I agree - it sounds gruesome! Babies should be happy, joyous, pure and innocent celebrations.

August 4, 2010
0

found this helpful
I would never even consider attending a baby shower with this kind of theme. I feel sorry for the baby!

September 10, 2015
0

found this helpful
I think it better not to go with this kind of theme on baby shower.

September 10, 2015
0

found this helpful
Surely this question is a jest. Surely someone ("Lisa") is having fun at our expense (I hope!!)!

June 16, 2016
0

found this helpful
This sounds awesome. What did you end up doing?
Answer

this Question

I am throwing my sister a fall themed baby shower at the end of October and would love to hear some ideas that anyone has. My sister doesn't want a Halloween theme just fall colored scheme.
Thanks,
Deana from Savannah
Answers

September 28, 2006
0

found this helpful
Visit this site:
www.babyshower101.com
They have some neat ideas!!!
By Marisa (Guest Post)
September 28, 2006
0

found this helpful
I always love decorating with the tiny decorative pumpkins (they're real, but you don't eat them). A local farm in my area (Oregon) has them for $0.35/lb. They'd be perfect for a fall-themed baby shower! If it's closer to Halloween or Thanksgiving, even grocery stores will carry them.
If that doesn't work, check a craft store for faux pumpkins and other squash/gourds. Even the decorative ("Indian") corn comes in mini sizes. I would just decorate for autumn, but mini-size everything. You can even use pumpkins (real or fake) as vases if you hollow them out.
Have fun!
By Carol Ann (Guest Post)
October 5, 2006
0

found this helpful
I threw a baby shower for my best friend about 6 years ago. The theme was more Winnie the Pooh - but my friends most favorite candy was candy corn so for one of the games I filled a baby bottle with candy corns and had the guests guess the amount then who was ever cloesest won a prize and my friend in turn got her fav candy. I also placed premmie sized or the very smallest disposable diapers at each guests place setting and put in some candy to help help the munchies while the mother to be unwrapped her gifts - since we didn't serve lunch/cake until after gifts were opened.
Since this is fall you could do trick or treat bags instead of diapers or real cheap fall colored paper bags from party stores. Possibilities are endless! Have Fun!
By LRP LOWELL, MASS. (Guest Post)
October 6, 2006
0

found this helpful
I have a few ideas. #1 having a large fall maple tree paper wall mural with a cradle in it (rock-a-by-baby). #2 on the floor in a cornor a pumpkin patch with a few pumpkins and a doll or 2 (pumpkin patch dolls). #3 a mobile of storks flying south with other birds for the winter (ex. geese)

September 14, 2008
0

found this helpful
I know this post is a bit older, but I came across the cutest fall baby shower decoration a few days ago and just had to share.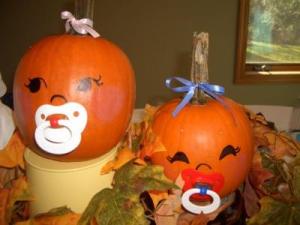 October 23, 2009
0

found this helpful
I am also giving a fall themed baby shower and so far i am just doing general fall decorations I already have, but i love the pumpkin pacifier idea. For my invitations i did a fall color scheme with the heading "So and So has a pumpkin in the patch" in a colonial looking font with a pumpkin stamp at the bottom. I also enclosed a leaf with where she was registered and how she was decorating her nursery.
For food I plan to serve seasonal fall foods, turkey paninis, fall fruit salad, a pumpkin shaped spice cake, hot apple cider, and brownies with cream cheese pumpkin swirled brownies cut in the shape of acorns and leaves and stuff.
I think I might do special pumpkin seeds as a favor but i haven't decided, we'll see. I would also appreciate other ideas.
Answer

this Question

We are doing a baby shower for my daughter-in-law in a couple weeks and using the moon/star/sleepy time theme. Our budget is limited. We have already thought of using a star cookie cutter for cheese and cutting out sandwiches, spray painting cardboard cutout stars and moons to hang. Can anyone think of other ideas to use? Thank you for any suggestions. We probably will be hanging Christmas white lights that twinkle.
By Bonnie from Zion, IL
Answers

Joan
Bronze Feedback Medal for All Time! 186 Feedbacks
May 7, 2010
0

found this helpful
You could also have a few cardboard cloud that are painted white. Latex balloons arent real expensive, you could use a bouquet of navy and yellow ones as a table centerpiece. You don't need a lot of decorations the main part of the shower should be the guest of honor and celebrating her pregnancy.
Oriental Trading Company does have a lot inexpensive decorations for all types of occasions.

May 8, 2010
0

found this helpful
Think about going to the local dollar store and getting a couple of small toy cribs or cradles and putting in a small amount of oasis and some silk flowers to make small arrangement to scatter around the refreshment table or hang them with fishing line from curtain rods or with tacks to the ceiling. This would cover the "sleepy time" part of the theme.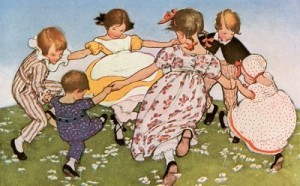 Answer

this Question