You can teach a child as young as six years old to sew with supervision.
Get a piece of regular ruled school paper.
Take all the thread from your machine including the bobbin.
Put the paper under the needle and drop pressure foot.
Simply have them sew the lines only (the needle will make holes). Do this until they can follow the lines exactly, or really close to it.
Draw slightly curved, long flowing lines on a blank piece of paper, not too many to a sheet. Have them sew the curved lines until they can follow them exactly.
Draw right angles on blank paper (you can use old paper sacks for this). This will teach the child to go right up to the corner, leave the needle down, pick up the presser foot, turn, put the presser foot back down, and sew the other side. Do this until it starts to get too easy and they get bored.
When you feel like they are ready, proceed to a piece of scrap material and draw the same lines.
Thread the machine (don't try to teach them that yet) and have them sew either a straight stitch on the line or a narrow zigzag (they can't go real fast or they can't follow the lines, and they have to pay attention). When they get bored, I change projects and leave this one as is until later.
These are the first basics I teach for those who have no idea how to use a machine or sew. It's very easy and if you sew, your boys and girls will adore this. After you get them comfortable with sewing, draw a simple outline of a picture and have them zigzag inside until it is as full as you want it. You'll have a simple picture you can cut out and applique or glue to something they like. I love to see their faces when they're through. Sorry I don't have a picture, everyone has taken theirs home.
Note: Please understand that children learn at different levels, so don't expect them to be the same. This has to be fun learning. Frustration in the child or adult will usually bring about a bad outcome.
By fuzzytufts from GA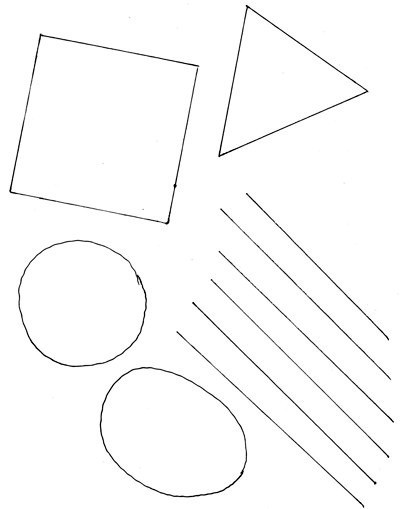 Add your voice! Click below to comment. ThriftyFun is powered by your wisdom!
April 28, 2011
0

found this helpful
I just recently purchased a sewing machine at a garage sale. I've sewn before but its been years!! I really wanted to get back into it, as prices for clothes are ridiculous, not to mention they never really have styles that I like. That being said, I'm actually going to use your advise to teach myself!! Yes, you heard right LOL! I think it would be a great introduction for any age novice, such as myself. Who knows? maybe my son (who already likes to loom knit) will learn along with me. Could be fun! Thanks for the advice!
Add your voice! Click below to comment. ThriftyFun is powered by your wisdom!
April 20, 2011
0

found this helpful
Have a child you want to teach to use the sewing machine? Draw straight lines, large squares, and triangles in ink on plain copy paper. Use colored thread and a medium stitch length and show the child how to put the needle down on the line then follow the line. Leave the needle down at the corner, lift the presser foot and turn the paper. Put the presser foot down and continue sewing to complete the shape. When they master the straight line shapes, go to ovals then circles. I used to teach children quilting in my shop. It works great and they have a ball. Make several copies of your pattern or my photo so they will have more than one to practice on. When they master this, help them make a plain square pillow cover for a reward.
By latrtatr from Loup City, NE
Answers:
Teach A Child To Sew
I'll give that a try when our grandchildren come up this summer for a week.

Last summer, while they were visiting, they wanted me to teach them how to sew so I got some scrap material and showed them how to thread a needle, make a hem and also sew on a button.

Their granddaddy needed a button on his shirt and Anna fixed it for him. He was about as proud of that sewed on button as Anna was.

They had a lot of fun learning how to sew. (05/12/2010)

By Hate Litter
Teach A Child To Sew
I loved this as I am 76 years old and have been trying to learn how to paper sew. Been sewing years and love it. Did many items for others. Not too happy with making clothes for others, but quilts and other things. I do love the finished product. Today the young people need another avenue for the future and sewing can be a business. (05/13/2010)
By broadway7