I have several bird feeders in my yard. Besides putting out seed, I also put out on the patio leftover bread, cookies, popcorn or anything else I think birds would eat. Everything was disappearing in a hurry.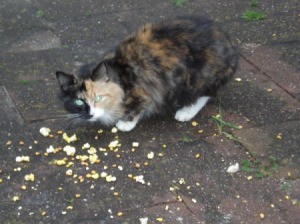 I finally found out why, a stray cat was coming and eating all of it as soon as I put it out, especially popcorn! One morning I caught her on camara eating the popcorn, thus we gave here the name. Then I went and bought a cat bowl and cat food. Oh, she loved that!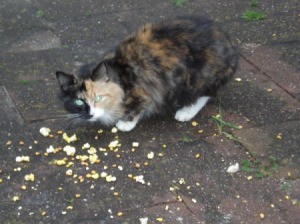 She is not tame and we cannot touch her to adopt her. In fact when trying, she turned and hissed and put a paw out, claws extending. This has been going on for several weeks now. Now we find she is going to have kittens. Oh my, what are we to do?
By Eileen Hays from Yorktown, VA