Planning Tips:
Rhubarb suffers from a bit of an identity crises. It's closely related to Garden Sorrel, which technically makes it a perennial vegetable, but it's often lumped in with the "fruit" pies on restaurant menus and in cookbooks. No matter how it's classified, it's an easy-to-grow, trouble-free addition to any garden in zones 2-8.
Site Preparation:
Select a site away from annual vegetables (near berry patches, etc.) where plants will be safe from being accidentally dug up. The location should receive sun at least half of the day and consist of average to rich, well-drained soil. Avoid low areas prone to frost or standing water.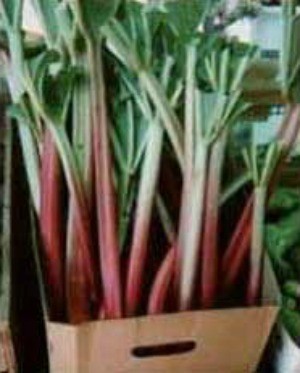 Planting:
Three plants are an adequate number of plants for most gardens. In the spring, plant crowns (buds up) 11/2 feet deep in a 3 foot wide bed, making sure holes are wide enough to accommodate spreading roots. Cover with soil and water thoroughly.
Care & Maintenance:
Apply a light fertilizer in the spring and cover new growth with 3 to 4 inches of organic mulch. Flower stalks should be cut off and removed as they appear throughout the growing season. Watch for signs of wilt and root rot during the season. Mulch plants heavily to prepare them for winter after foliage dies back in the fall. Dig up and divide plants when they start to produce thin stalks.
Harvesting & Storage:
Rhubarb should not he harvested until the second season after planting and then only for 1 to 2 weeks. Harvesting can be increased to 1 to 2 months by the third season and after that, plants can be harvested as often as you prefer. Select stalks that are thick with well-developed leaves. To harvest, simply twist stalks until they break from the plant or cut them off to the desired length with a knife. Rhubarb leaves are poisonous and should not be used (compost them). Stalks can be blanched by surrounding sprouting plants with an open-ended box about 2' wide and 2' to 3' tall. Blanched stalks will grow longer and be ready a week earlier than usual.