When you open a photo album, all the warmth of a family's history is poured out on each page. All those precious memories tucked inside a generic photo album from a super store seems a little ironic. Sure, they say it's what's inside that counts, but a nice presentation is nothing to scoff at. Here's a fabulous way to make the exterior of your photo albums compliment the personality of your treasured memories inside.
What you'll need:
fabric scraps (cotton works best)
ribbon
Mod Podge
2 inch foam brush or paint brush
pinking shears
hot glue gun
photo album
Directions:
If you're using a photo album filled with pictures, remove the pages. Irremovable pages should be wrapped in paper or plastic to protect them from the Modge Podge.
For an album that measures over 10" in height or width, use pinking shears to cut the scrap fabric into rectangles and squares that range in size from 3 to 4 inches. If your album is small, cut the fabric squares smaller. Incorporate a variety of patterned or textured fabrics into your design. Coordinating colors will convey a more formal look, and contrasting colors will make a photo album appear festive or whimsical.
Lay your open photo album flat with the cover facing upward. Paint the back of each fabric shape with Mod Podge, then lay it onto the album cover. Brush a thin layer of Mod Podge over the top. Vary the positions of the scraps, using the same application process, and overlap the fabric edges. At the edges of the photo album, tuck the fabric around the side and affix it to the inside of the cover with your paintbrush. You can also cut fabric that extends past the edge with pinking shears, as in the photograph. When the album is completely covered with no background peeking through the fabric, allow it to dry for a few hours.
Once the album is dry to the touch, cut a length of ribbon two inches longer than your album cover. Glue one end of the ribbon to the inside cover, then run it along the length of the album, dotting hot glue to ensure that it adheres to the book. Tuck the end of the ribbon under the back cover and secure it with glue. Close the album. You can tie a bow on the ribbon embellishment with another small length of ribbon, or glue a charm, applique, or postcard over the ribbon to complete your project.
Patchwork photo albums can also be made with gift wrap scraps, cut outs from magazines, greeting cards, or newspapers, or with old sheet music. They make wonderful gifts for wedding and baby showers, teachers, grandparents, and friends.
2005 ThriftyFun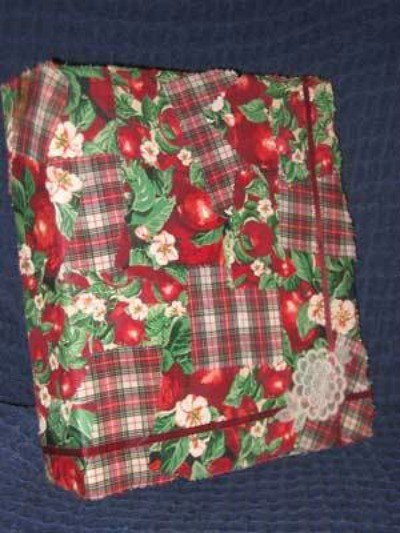 About The Author: Shauna Smith Duty is a freelance writer with a penache for writing family and parenting articles. She composes articles for both print and web publications, reviews children's books and movies, writes short plays, and provides editing services.
Add your voice! Click below to comment. ThriftyFun is powered by your wisdom!
June 30, 2005
0

found this helpful
What a great way to personalize the albums! You are so clever, thanks for sharing this with us!
January 7, 2011
0

found this helpful
You did a great job on that photo album. It is very pretty.
October 24, 2014
0

found this helpful
You did a beautiful job. My daughter made me one and I still have it full of wonderful and fond memories.
Thank you for reposting this and the instructions.
Add your voice! Click below to comment. ThriftyFun is powered by your wisdom!