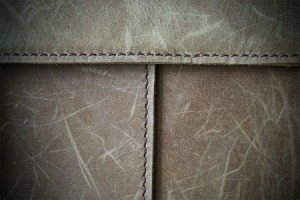 How do I cover deep scratch marks on a leather sofa?

Janie from Lilburn, GA

Professional Advice
As someone who worked as a leather repair technician for 10 years, this is something I have come across many times. Most of you appear to be talking about surface scratches on a wax finish. Please forget olive oil, milk, or any other home remedy mentioned here. Yes, they work to an extent, but the lasting effects could be horrible.
Leather is porous when exposed and milk, oil, or other food product will rot after time and cause your sofa to smell. For the kind of scratches most of you seem to be talking about, some warm water and a soft cloth will provide you with exactly the same effect.

For deeper scratches, scuffs, burns, or tears please contact a local professional. All is not lost, the beauty of leather is that no matter what happens to it, a repair can always be done.

The best way to avoid this happening is to keep the cats off the furniture in the first place. A suggestion that has often worked is to sprinkle fine ground pepper over the sofa when you go out. The cats will soon learn that the sofa is not a nice place to be. They get it on their feet and then wash them which obviously doesn't taste too good. Harmless for the cat and the sofa. (07/08/2009)

By Kiely
Scratches on Leather Furniture
The olive oil works wonderfully. I remodeled my home last year and bought new furniture throughout, including two leather chairs. Six months ago I was adopted by a cat that had kittens in my yard. She does not scratch the leather, but simply by jumping or walking on it damages the leather. I thought the furniture was destroyed until I tried the olive oil. (04/15/2008)
By Linda
Scratches on Leather Furniture
I used the iron and damp cloth idea after rubbing my black leather sofa with olive oil and it has come up a treat. They were quite deep scratches too, and now you cannot even see them. Promise it works. (06/20/2008)

By Annie
Scratches on Leather Furniture
I just tried the olive oil and it helped some. I also tried the ironing with the wet cloth and it discolored the leather making things worse. (08/31/2008)

By Jim
Scratches on Leather Furniture
I tried the shoe polish and the Murphy's oil soap spray. It worked great. I have two cats and two dogs. The dogs are not allowed on the furniture, but it is very difficult to keep the cats off. We figured the furniture would be fine since both cats are front declawed. No, their back claws dig into the furniture when they are running around in their "cat mischief" and being chased by the dogs.
I rubbed in the shoe polish first then went back over it with the oil soap. My husband was amazed. He was ready to get rid of the cats. They are safe, for now. (11/15/2008)
By Camille from Las Vegas
Scratches on Leather Furniture
My grandchildren decided to use their fingernails to draw stick people on the back and seats of my heavy brown leather couch. I was appalled that the couches would look like that forever, then read these tips.
I just tried the Orange Oil. I used Pledge and sprayed it first on a paper towel, then rubbed the paper towel on the leather. It not only took care of the drawings, but was a great conditioner, making the leather look better than before the drawings. (11/22/2008)

By Marie
Scratches on Leather Furniture
I have dark brown leather couches and I used the dark version of old English (furniture polish) and it worked great. (12/21/2008)
By Rachel
Scratches on Leather Furniture
I know this sounds crazy, but someone told me about it and I just did it today, it completely fixed the scratches on my dark brown/reddish toned recliner. Milk.

I took a paper towel and polished it with milk, and they disappeared.
On a light colored recliner it didn't look as good, but that might have been because the leather on that one is much more severely damaged. (12/22/2008)

By Elisheva
Scratches on Leather Furniture
One way to prevent kitties from damaging your leather is to go to Pet Smart and buy kitty nail guards. They are plastic sleeves you slip onto your cats claws. It's much better than declawing your cat. (02/14/2009)

By xelleZ