March 5, 2010
0

found this helpful
Here's another view of Emery-Cat: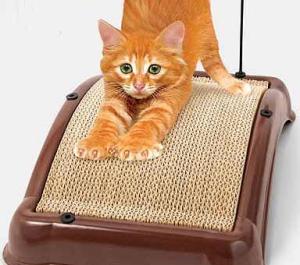 March 6, 2010
0

found this helpful
My daughter and I both have and neither one of our cats would touch the scratcher part ut both loved the feather! In my opinion it was a big waste of money. I threw mine away after 2 weeks of not being touched-the feather was in shredds by that point and the cat did not go near it.
My daughter covered a box with left over carpet using heavy duty glue-she has reported that her cat loves her box and is scratching up a storm.
March 9, 2010
0

found this helpful
I have tried those also and none of my cats ever liked them. However, I did find something they do like. The cat I have now loves it.
Take a board and mount it securely to a base. Then wrap it VERY TIGHTLY winding it all the way up to the top with Sisal Rope. I don't know what it is, but all cats love that. Mine rarely scratched on the furniture and when he did, all I had to do was yell his name and he'd go running to his rope tower.
I'm enclosing a picture of a "tower" I built. The four corners are covered with sisal rope. The rest is covered in indoor/outdoor carpet squares.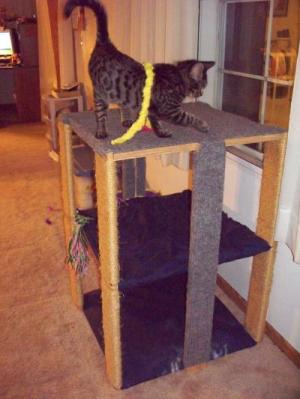 March 9, 2010
0

found this helpful
I purchased 4 of them; 2 for my 4 cats, 1 for my mother-in-law's 2 cats and 1 for my mom's cat. The 2 cats fight over it. 1 has claimed it and will just lay across it. My mom's cat does use it. My 1 cat that is isolated uses it it a lot! The others sparingly, but they all LOVE the feather.
I did not see any real difference regarding the nails. (This is after 1.5 months.) If I could make the scratching thing vertical, I know the others would love it. They tend to hang themselves and scratch on the vertical scratching post. Because I bought 4, the price (including the crazy shipping) was reasonable.