Suntydt
Bronze Feedback Medal for All Time! 109 Feedbacks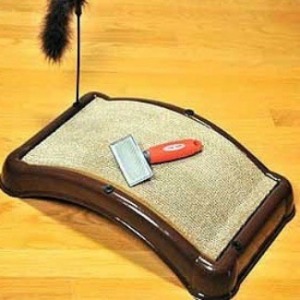 I will start off by saying that after reading the reviews about the Emery Cat Board I wasn't sold, but I wasn't totally turned off either. Most of the reviews were either the cats loved it and it did as advertised or the cats didn't give it a second look and therefore was a waste of money. The other types of reviews I read about were concerning the company itself. Many people complained about being charged more than they originally thought it would cost them.
Many times this was due to the fact that (like many other TV advertisements) they were charged shipping and handling twice when the second free Emery Board was requested. But on some occasions this wasn't the complaint regarding the company. There are many sites that offer areas to critique the Emery Cat Board. I recommend you read a few of them.
Here is my review: I was going to order one of the Emery Cat Boards and give it to my sister as a gift. I considered this for my niece and my brother as well. So my thought was, I'll order one and get the second at the discounted price (just postage and handling). If it didn't work for one of the cats in question, it could be given to one of the other relatives. I figured I had a 2 out of 3 chance for the product being used. I went to the Emery Cat website and began the ordering process. I am on dial up so while pages were loading I was reading reviews regarding the Emery Cat Board. When the webpage requested a quantity, I put 2. One at regular price and one at the discounted price. The next webpage that loaded asked me if I would like the discounted Emery Board. Oops, I goofed. Go back one screen on Internet Explorer. Same screen loaded. Closed the browser and went back to the web page to start over.
The page loaded back to the special offer page. At this point, I decided there would probably be a confirmation page and I could modify my order there. I selected that I did "not" want the doubled order. The page did nothing. I selected that I "did" want the double order and a new page began to load - and load - and continued to load. After a half an hour I closed the browser tab and decided I would try again at a later date. Within a few minutes I received an email notifying my order was processed and it would take 3 to 4 weeks for the delivery. It didn't say what the total was or what the name of the company would be for the charge. This all took place at about 11pm, so I decided I would call first thing in the morning. The email I received had their number and hours of operation.
The next day, I called about an hour after their customer service time started. I told the man that answered that I had made the order the night before and I wanted to cancel. His reply was the order had already been shipped and couldn't be canceled. But he could reduce the cost by $10 for my inconvenience. I told him to forget it. I called my bank. There had been a hold placed on the amount for the order, but I could reject the charge by going to the bank and signing a document saying the charge was not valid. I explained to my bank what had happened and about the phone call and they agreed it sounded like a scam. They agreed to stop it before it happened and recommended I change my debit card to a new card, just in case the company in question tries something else at a later date. Needless to say I agree.
Since that time I have found out that there are other stores that carry this Emery Cat Board on the shelf: Some Walmarts, Walgreens, Rite Aids, and another I can't think of right now. If this product is of interest to you, put in the leg work and call your local stores to see if they have it.
One thing I read about in some of the reviews was that the insert that comes with the Emery Cat (don't know if this is the Catnip or the emery part) wears out in a short time and no one seems to carry replacements. Replacement have to be ordered online.
Hope this long winded report helps someone.
By Suntydt from Tazewell, TN
Read More

Comments

Cyinda
Bronze Post Medal for All Time! 213 Posts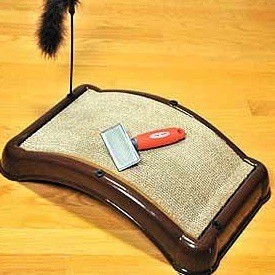 Has anyone used the "Emery Cat" scratching pad that files a cat's nails when they use it? Does it work? I've seen it advertised on TV. Here's their web site.
By Cyinda
Answers

Cyinda
Bronze Post Medal for All Time! 213 Posts
March 5, 2010
0

found this helpful
Here's another view of Emery-Cat: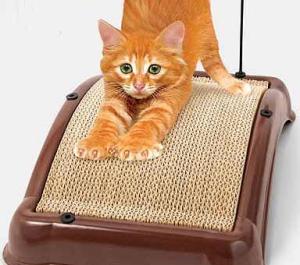 March 6, 2010
0

found this helpful
My daughter and I both have and neither one of our cats would touch the scratcher part ut both loved the feather! In my opinion it was a big waste of money. I threw mine away after 2 weeks of not being touched-the feather was in shredds by that point and the cat did not go near it.
My daughter covered a box with left over carpet using heavy duty glue-she has reported that her cat loves her box and is scratching up a storm.

Cricket
Bronze Post Medal for All Time! 205 Posts
March 9, 2010
0

found this helpful
I have tried those also and none of my cats ever liked them. However, I did find something they do like. The cat I have now loves it.
Take a board and mount it securely to a base. Then wrap it VERY TIGHTLY winding it all the way up to the top with Sisal Rope. I don't know what it is, but all cats love that. Mine rarely scratched on the furniture and when he did, all I had to do was yell his name and he'd go running to his rope tower.
I'm enclosing a picture of a "tower" I built. The four corners are covered with sisal rope. The rest is covered in indoor/outdoor carpet squares.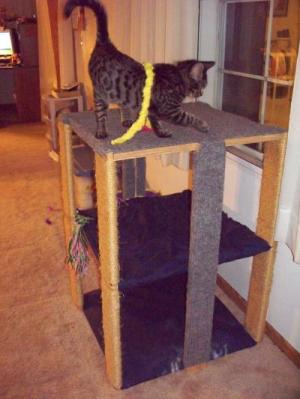 March 9, 2010
0

found this helpful
I purchased 4 of them; 2 for my 4 cats, 1 for my mother-in-law's 2 cats and 1 for my mom's cat. The 2 cats fight over it. 1 has claimed it and will just lay across it. My mom's cat does use it. My 1 cat that is isolated uses it it a lot! The others sparingly, but they all LOVE the feather. I did not see any real difference regarding the nails.
(This is after 1.5 months.) If I could make the scratching thing vertical, I know the others would love it. They tend to hang themselves and scratch on the vertical scratching post. Because I bought 4, the price (including the crazy shipping) was reasonable.
Answer

this Question