December 10, 2010
0

found this helpful
This is the first site I found (link below) but you may find more competitive prices and other models by doing a search using the keywords "kitchen gadgets" or "kitchen gadget stores" then do a specific search for "nutcrackers" once you get onto a kitchen supply site. Good luck.
www.cookingenthusiast.com/product.asp?pn=W9P14040
December 11, 2010
0

found this helpful
Check out this link
www.texannutsheller.com/index.html
They have a number of different kind of nut crackers, but the one that I am familiar with is the nuti-budi that is used for cracking pecans. It is inexpensive, works very well, does not crush the nutmeats, and has a lifetime warranty. We have had ours for over 20 years, and my husband has cracked as many as 50 pounds in one season.
We had also given one to my Dad many years ago, and when he passed away, we received it back. The only thing I have had to replace is the leathers that hold the rods in place, and they always send them promptly at no charge. You can see what you think about the others. I am adding a picture of the Nuti-Budi
Harlean from Arkansas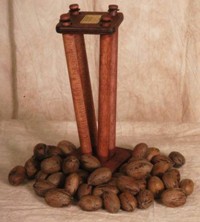 December 12, 2010
0

found this helpful
I just saw some yesterday at Krogers. Hope this helps.
December 12, 2010
0

found this helpful
Harlean, would this nutcracker crack Hickory nuts without smashing the nutmeat?
December 12, 2010
0

found this helpful
I haven't tried this with all nuts but it works awesomely for the ones I have tried it on! Freeze them for about six hours before cracking because it helps pull the meat inside away from the shells.
I just use a simple old fashioned standard silver v-shaped nut cracker. Crack them at their seams if they have seams or from top to bottom if no seams but with just enough force to break the shell apart without smashing the meat. You truly don't need a fancy nutcracker.
December 12, 2010
0

found this helpful
Try lehmans.com. It's an Amish store website based out of Ohio. I bought a really good nutcracker from them that my parents used to shell pecans.