By guest (Guest Post)
March 19, 2008
0

found this helpful
Microwave popcorn, bottled water, tea bags, hot chocolate mix, coupons for hotel services, homemade cookies, refrigerator magnets with hotel logo and phone #, candles, champagne
March 19, 2008
0

found this helpful
Coffee singles and coffee creamer. How about a full size bar of soap? Those tiny things they give you in hotels are hard to handle. Magazines and paperback books.
By guest (Guest Post)
March 20, 2008
0

found this helpful
Mints, gum, favorite candy bar or salty snack, small bottle of wine, bubble bath, coupon to local restaurant, piece of LOCAL collectable (as a souviner)
Playing cards, travel journal, puzzle book, book they have been meaning to read, a letter from you
Depending onthe occasion--you can personalize it along that theme
By guest (Guest Post)
March 20, 2008
0

found this helpful
Be sure to give personal items like shampoo, conditioner, lotion etc in small sample sizes. Also good are small packages of nuts, chocolate candy bars, chips or crackers. Shower caps and slippers are good too. Bottles of water go over well. Mostly these are things that are often forgotten when people pack. For the men don't forget shaving lotion and disposable shavers. And for out of towners include a copy of the daily newspaper.
March 21, 2008
0

found this helpful
My Aunt travels a lot.Often, following a whirl-wind of meetings, meals while having meetings, late night meetings, and hurry-up to make it to the meetings on time, trying to grab a taxi, that she often gets a headache, or indigestion, upset tummy, or allergies start up in a strange place.
Most usually there isnt anywhere to pick up some over-the-counter remedies. Perhaps some sample sized items for headache ,allergy, diarrhea, pepto, or tums would be appreciated. Especially those that dissolve in your mouth, and don't need water to swallow them down. You could include these with your other "goodies" Just never know.
By guest (Guest Post)
May 6, 2008
0

found this helpful
I think a basket full of crossword puzzles, sudoko & circle-it game books are nice, along with some playing cards. A journal & nice pen for her to document her days. And a Nice lotion & bubble bath.
By guest (Guest Post)
November 9, 2008
0

found this helpful
It's flu season - protect yourself from germs with disposable mini-covers. The covers are made of surgical mask material and act as a germ barrier. Mini-disposable covers great for home, travel and office. Use them on telephone receivers (they feel great on your ears), doorknobs, toilet flushers, beverage covers. Check out twinzings.com for additional uses. Great for holiday stocking stuffer gifts.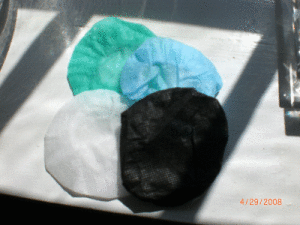 By guest (Guest Post)
February 24, 2009
0

found this helpful
I usually use GiftTree.com.
December 12, 2010
0

found this helpful
I found the best company out there. The Grateful Basket specializes in baskets for events and hotel gift baskets. They arrange delivery and customize the basket for your event and theme. My guests were very happy with what they found in their room.