March 21, 2008
0

found this helpful
Top Comment
The top left pink flowers is a close up of the peach tree blossoms.
The picture underneath that is a Pink Jasmine Vine.
The dwarf peach tree is the right bottom picture.
The yellow flowers are euryops daisy.The purple iris my sister called "Table Iris" we don't know their real name.
The Red/orange flower, I have no clue the name. Anyone else know please share here. Thanks and glad you are enjoying our So. Ca. Spring. Here is one more. It is Clivia. GG Vi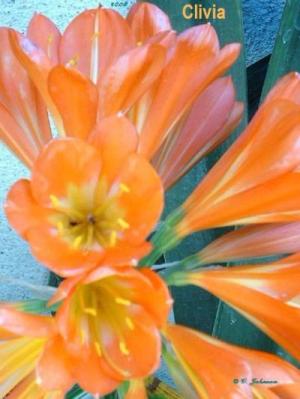 March 21, 2008
0

found this helpful
Beautiful flowers and a beautiful sentiment. What are the pink morning glory-like flowers growing up on a pole? I've never seen those before.
March 21, 2008
0

found this helpful
OMG your flowers are so beautiful, I'm looking out my window at 10 inches of new-fallen snow and I am so jealous! Thanks for posting for those of us who can't wait to see something green again in our yards!
March 21, 2008
0

found this helpful
how beautiful..it makes my heart lighter just knowing that our Spring time will be here soon...thanks soooo much for sharing the pictures....:))))))))
By nancycorinne (Guest Post)
March 22, 2008
0

found this helpful
The mystery flower looks like it grows from a succulent that we have in our yard. If you could post a photo of the plant, I might be able to help find the name.
Beautiful, and thanks for sharing. I grow plumeria. I have one with an inflo on it so flowers are not far behind. I'll post some pictures when the time comes. My pink jasmine is going crazy like yours. Mine is right across the pathway from my spa. So I get a real treat when I soak, the fragrance is wonderful! Happy Easter, Happy Spring!
By Darlene (Guest Post)
March 22, 2008
0

found this helpful
Thank You so much for the pictures of the beautiful flower's! Spring has not started here yet we have snow so those beautiful picture's helped allot in the fact that we know spring will soon be here. Thank You again, Darlene
March 23, 2008
0

found this helpful
This warms my heart, all my thoughts & prayers to the ones that have to leave their homes behind due to the weather. As of 2 days ago we still had frost in the morning, I am excited about starting my garden, I'm in WA state, coming from Florida several months ago and itching to get my hands dirty!!
By (Guest Post)
March 25, 2008
0

found this helpful
Thanks a million for sharing those beautiful pictures
with all of us and getting us in the mood for spring.
I know that I am anxiously awaiting for it to arrive here in my part of the country.It's just around the corner I know, but it can't get here quick enough for me......
Thanks again.
Teresa/Va.
April 2, 2008
0

found this helpful
What BEAUTIFUL flowers! It's so nice to see some color. We're just now getting into spring here, but it's still in the 40's and everything is still very bare & winter-beaten. Just seeing all these lovely colors gives me hope of what's to come soon! Thanks for sharing.