A year ago, I owed an unexpected $900 on my federal income tax return. I juggled a few financial responsibilities, cut some costs and was able to pay my tax bill by April 15.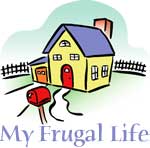 I was already pretty frugal, but I found I could be more so. It felt good and I kept it up. Now, because I can manage my day-to-day expenses better, I'm actually chipping away at my wish list. Last Christmas, I actually managed to spend $500 on a new computer and LCD monitor, in addition to buying holiday gifts. And this spring, I paid a $374 tax bill with only a grimace. I still live mostly paycheck to paycheck, but it's less of a struggle because I'm more penny-conscious than I used to be.
I avoid going to the grocery store until I'm pretty much out of everything. If I run out of milk or bread or eggs, I'll stop at the discount store rather than expose myself to a store full of food. If I walk into a grocery store for milk and bread, I walk out with $40 worth of groceries. I buy most of my toiletries at the dollar store, which has some good name brands that perhaps have fallen out of fashion. Breck shampoo? I grew up with it. I'll buy that for a dollar. The Jergens hand lotion (original scent, cherry almond, mmmm) I looked everywhere for. I finally found it on the shelf of my local dollar store. I buy six at a time.
I buy good-condition clothing, household items and some electronics (I try to test the electronics stuff first) at garage sales or Goodwill. I search for bargains on eBay. My last computer cost $100. I just picked up an Nintendo 64 for $5, which pairs up with my $1 Playstation. I let friends and family give me stuff they don't want. I happily take home leftovers. I rarely eat out and I always bring my meals to work.
Saving money brings me a feeling that is similar to that which I get from spending money on something I want. Both are about control in my life:
If I save money, I show myself that I am controlling that which I can do something about.
If I spend money, I show myself that I have the power to do so. I can make that decision.
Being frugal feels good. I'd like to think that I would keep some of my frugal ways if I came into money. At the very least, I'd keep buying my Jergens hand lotion at the dollar store. Mmmm.
Laurie from Bemidji, Minnesota