Kelly Ann Butterbaugh
3

found this helpful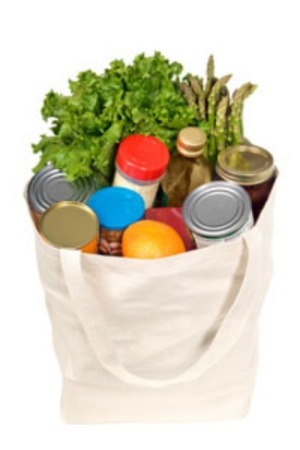 While global warming and resource depletion is justifiably concerning, so is the cost of fixing it. There are so many energy efficient ideas, but the average family isn't replacing their car or changing their heating system just yet. While many of us want to "go green", we simply can't afford the green products right now. With a little creativity, there can many ways to go green affordably. Look at these ideas.
What Do I Need?
All it takes is a good bolt of heavy fabric in the $1/yard bin, and the planet can be saved. You don't have to be a seamstress to do it, either. Start by clearance bins for sturdy fabric. If that's not successful, look in the bins for solid fabric tablecloths, heavy weight curtains, or even a cheap shower curtain or two. You need heavier fabric that isn't transparent (so that it can hold weight) and a natural linen texture rather than a plastic coated one or fleece.
Now that you have the fabric, what are you going to do with it? First, you're going to help to lessen the 80 million tons of discarded paper a year. Then, you're going to do your part to save animals, resources, and landfills by putting a stop to the 100 billion plastic grocery bags used in America each year.
What Am I Going to Do?
Save on paper napkins and use linen instead. Cut a table cloth into fourteen inch squares of fabric. Sew a hem on each side, making linen napkins for your family. (If you picked up an extra table cloth, you have a matched setting for dinner.)
Eliminate paper towels. Buy a pack of cloth baby diapers to use as spill cleaners. Two diapers can pick up almost as much as a roll of paper towels, and they can be washed over and over and over again for reuse.
Make reusable grocery bags. Cut fabric so that it can be sewn into a large tote bag. Use a paper grocery bag as a pattern by disassembling it and pinning it to your fabric. With a few quick seams a bag can be made. For the handles, cut two strips of fabric three inches wide and long enough to make a looping handle for the bag. Fold it in half lengthwise and sew it together to make a long tube. Using a wooden spoon handle, turn the fabric "snake" right side out. Sew the rough ends to the inside of your bag at the appropriate places. These make a great rainy day activity for the kids who can decorate them.
If making a bag is too much, buy them. Many chain grocery stores are now selling reusable bags for as little as $1 a piece. Tote bags from craft stores work as well, but they tend to be a bit smaller. Part of being eco-friendly is reusing and recycling. By using fabrics from one item to create another, you're being a part of this. Plus, you're feeling better about yourself and your impact on the environment all without going broke.
Comments
June 19, 2008
0

found this helpful
making own cleaners using vinegar, etc; & ORGANIC ways to make own sprays, etc; easy, quick, simple, cheap; do NOT get into the trap of paying MORE to the Corps for "green"; lots of info available on line & in groups folks: SAVE $ don't pay MORE for going green! (fyi:use the plastic grocery bags for your garbage bags; can double bag for kitchen if need to, tho if freecycle or get onto gardeners group; you can keep quite a bit of your kitchen garbage including used coffee grounds to help out others!) why PAY for garbage bags made of plastic when you HAVE multitudes of them for FREE?
June 23, 2008
0

found this helpful
I agree about making your own, homemade cleaners. I have asthma and find that all the store bought stuff is too strong with all the fumes and odors. I clean now with my own homemade cleaner of amonia, water, rubbing alcohol, and a small squirk of dishsoap.
When I need to scour, I use baking soda. I have shopping bags that are a crocheted-type cotton string bag. But, a friend just showed me a bag that she is crocheting and she uses cut up plastic grocery bags for the "yarn". Now, that is ingenious recycling!
April 29, 2009
0

found this helpful
I would like to know of a pattern for the crochet recycling bag grocery bags cut into strips.