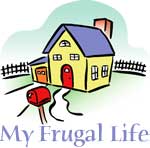 I was mostly raised by my Grandma, being the only chick in the nest of parents who both worked long and hard and often traveled to work in other areas. Grandma was born in 1895 and raised 6 children on her own after her no-good husband ran off. This was long before the days of Social Security. She had lived through some really hard times, and she taught me so much, it still makes me smile.
We quilted together, proper scrappy quilts from castoff clothing, and unraveled jumpers to be reknit - even the little scraps could go into crochet squares. Buttons, zips, and trimmings all had to be saved. I vividly remember being put over her knee to be sewn back into my pants after splitting them while climbing trees, and Grandma not putting her glasses on and stitching my skin into the seam.
It made me squeal and her laugh. I also remember the huge balls of aluminum foil she saved to sell to the rag and bone man, having to unwrap presents carefully so the paper could be reused, and the constant preparing of whatever she had been given from people's gardens.
I was the youngest and the only girl, and I resented not being allowed out to play all the time with my boy cousins. The house was always full of children and cooking and laughter.
Grandma raised 6 kids alone by cooking for everyone. She did hunting breakfasts, shooting parties, harvest suppers, cricket teas, baked and sold, and swapped baking for half a pig with the old farmer up the road - although she always said it wasn't her baking he was after - lol. She looked after local old folks, gleaned fruit, sent her boys out to rake through the local tip for anything useful, and took in washing and mending.
You forget so much, then you start to get older yourself and the grandchildren start to appear. You remember in your teens and 20's, how awful all the stuff you learned seemed, dreadful and mean spirited. Now that the hard times have come again, it doesn't seem mean spirited just really useful. If nothing else, the ability to cook is keeping us afloat. Maybe a woman's place isn't such a bad place. I hope my home continues to be full of kids and laughter for many years. I have a lot to thank my Grandma for.
By kayerunrig from Lincoln, Lincolnshire
Do you have a frugal story to share with the ThriftyFun community? Submit your essay here: http://www.thriftyfun.com/post_myfrugallife.ldml