August 11, 2009
1

found this helpful
Best Answer
If the oil is not dried on the carpet yet, try using Murphy's Oil Soap to remove the paint. That's what I used to clean my brushes with and a few drops of water with it to get it activated. You'll have to do use a lot of clean rags so you don't spread the paint around while working it free.
August 11, 2009
0

found this helpful
I think I would try some dish detergent, like Dawn as the oil crayons are sort of like a grease stain. There are a lot of products out there, maybe one that is designed for removing automotive grease, like Goop, or Greased Lightening. Good luck, what a cutie. He looks remorseful too!
August 11, 2009
0

found this helpful
My suggestion for the carpet is either mineral spirits, or you can buy the masters brush soap from the fine arts section of your local art supply store. It's in a small plastic tub, and it is is pricey! Mineral spirits is cheaper, but flammable.
I'm pretty sure that the art store should have a natural version of turpinoid (essentially a paint thinner) in the oil paint section. Oil pastel on any hard surface is easily removable with a Magic Eraser. I'm kind of an expert on this topic considering that I'm an art teacher! Good Luck!
February 26, 2020
0

found this helpful
Wouldn't you have to check and see if Dawn is flammable too?
April 14, 2020
0

found this helpful
yes but you will stain the carpet with strong
August 11, 2009
0

found this helpful
Well, they are really made from oil. You'd have some luck buying whatever removes oil based paints on artist's paint brushes (unfortunately it will be flammable!). Also, you'll have a hard time not smearing it. Pour it on, then leave it sit then blot, blot, blot. In small areas you can cut and patch without it showing.
For details on how, drop me a note.
You might also try one of those "dry clean" sponges (Google "dry clean sponge"). Not to be confused with a Mister Clean sponge, though that might also work? But, I've never used one.
Also "GOOP" is made to remove grease & oil from mechanic's hands. It might also work?
June 19, 2015
0

found this helpful
I don't know about you guy's but water, grunt work and a 10 min time out worked well for me to get my pro art oil pastel stain out of my grandmothers white carpet.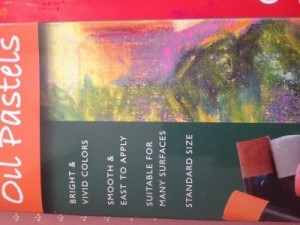 July 25, 2018
1

found this helpful
I had this problem (4 year old + orange oil pastel + white carpet) and decided to start with the non-flammables first. Dawn didnt do much but the Dr. Bronners Castile soap (used hemp Tea Tree flavor) did the trick. Dilute some in a bowl with water about a 1/2 tsp for a cup of water. I also filled a squeeze bottle with clean water.
Dip the end of a paper towel in the soap mixture and blot the stain until its mostly gone. Follow up with the water bottle directly over it to remove any soap residue and finish removing the stain. Stain was barely visible or not at all with considerably minimal work. (Had streaks all the way up the stairs!)