By Sandymom (Guest Post)
August 27, 2008
0

found this helpful
I have been reading and researching "plarn". It is yarn made from recycled plastic bags. I have seen some really cute purses made from this. Google plarn and some instructions will come up. I just don't know how to knit so that is my next step!

August 27, 2008
0

found this helpful
If you crochet, you can make bags or rugs out of them. They are very sturdy & will last a very long time.

Julie
Bronze Feedback Medal for All Time! 149 Feedbacks
August 27, 2008
0

found this helpful
The majority of the time most grocery stores have a big cardboard box somewhere up front of the store encouraging you to recycle them there. Just drop them in.

August 27, 2008
0

found this helpful
Not for profit organizations would love to have your plastic bags to use in their resale shops. Our recycling center takes plastic bags as well.

August 27, 2008
0

found this helpful
I take 10 - 15 plastic bags and squash them down in the bottom of each of the small trash cans in all of my rooms, then use one plastic bag as a trash bag in the container. When I take out the trash, another bag is right there to use.
I donate used plastic grocery bags to my local thrift store. Also at 2nd hand book store. They welcome them to use at their register for customer's purchases. I just fill up one bag with dozens of other squashed down bags and take it to them. They appreciate having them.
I use plastic bags for shipping materials (instead of shredded newspaper or bubble wrap) in boxes that I mail.
When I share plants or veggies from my gardens, I use the plastic bags to transport them. The plastic bags will hold quite a bit of dirt around a newly dug plant for quite a while. And a plastic bag of fresh homegrown tomatoes is a welcome sight to the neighbors.

August 27, 2008
0

found this helpful
Here is the link to the planters I make out of plastic bag

August 27, 2008
0

found this helpful
I crochet some of mine into rugs & other things.
I also crochet red bread bags (from raisin bread).
Some of them I started hooking a rug from strips.(yellow & white)
Some of them I reuse as small trashcan liners.
Some get used specifically for kitchen waste I don't want smelling up my trash.
I even tried stuffing them into a large zipper bag for use as a pillow.
By Betty (Guest Post)
August 28, 2008
0

found this helpful
I have many uses for plastic grocery bags and if plastic bags are ever banned, I dont know what I will do without them. I like them because they take up very little space especially if you press the air out and fold them. For convenience, I keep a tube of plastic bags hanging in the kitchen. Any time I get an excess, I take them back to the grocery store for recycling.
My tips:
Keep a plastic grocery bag in a gallon ice cream bucket for collecting wet and smelly trash that would be garbage in the kitchen trash. Tie it up at the end of the day and put it in a bag in the outside trash container. I use a lot of bags for this and it saves buying the tall kitchen trash bags for my trash container in the kitchen. When collecting the household trash, I go around and empty all the trash cans into a plastic grocery bag, tie it up and put it in the outside container.
Hang a bag for collecting items to recycle.
Wrap meat that is purchased from the grocery store for freezing. Put the packaged meat in the bag and fold it over. Use freezer tape to secure. Write the name and date purchased on the freezer tape with a Sharpie permanent marker. The plastic bag helps keep the package from tearing and protects the meat from freezer burn.
Fold several plastic bags and put them in the glove compartment of your vehicle. They will be handy for putting trash in when traveling. Also on a rainy day, you can take off your shoes, especially if they are muddy, and put them in a plastic bag rather than getting your car all wet and muddy. Keep a couple in your purse. Never know when one will come in handy.
This tip is my favorite. Walk the road or street in your neighborhood and pick up any litter you see as you get your walking exercise. I use a lot of my plastic grocery bags for this. My dresser stays cluttered with plastic bags I empty out of my pockets when Im getting ready for bed. I challenge you to give this a try. You will be surprised at how good it makes you feel.
How to fold a plastic grocery bag:
Tuck in the sides. Press all the air out. Fold over and then fold up. You can really make a plastic bag small and flat. If needed, I can easily stuff a couple dozen of these folded bags in the pockets of my shorts and jeans. You cant do that with paper sacks nor cloth bags. I keep these specially folded bags tied up in a plastic grocery bag.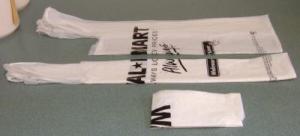 August 30, 2008
0

found this helpful
I reuse them till they are near transparent then I take them to the recycle bin at the grocery store.

September 14, 2008
0

found this helpful
Many local libraries accept used plastic bags for their patrons to carry home their books. I would think food banks would also be able to make use of them as well.

September 17, 2008
0

found this helpful
I always prefer plastic over paper. Here is why. Plastic is 100% man made. No trees cut down to make even 1. They are 100% recyclable. Paper even partially recycled is usually only 40% recycled. that means a tree had to be cut down for that other 60% of that bag.
:-) Whenever they ask I always reply with plastic please its better for the environment :-) (BUT ONLY if they are actually recycled)

December 21, 2008
0

found this helpful
I get paper bags from the store so that I can use them for sorting my recycling. However, I use the plastic bags for scooping out cat litter, and also for putting my leftover food/waste in so that I can easily take it out to my composte pile.