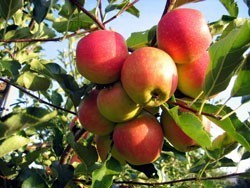 Selecting High-Quality Apples:
If you're purchasing apples, fall offers the greatest selection. Choose ripe apples for freezing that feel firm and crisp in hand and have a bright color. Avoid apples that feel soft and mealy or have cuts or punctures in the skin.
Preparing for Freezing:
Wash, peel, core and cut apples into quarters for freezing. Approximately 1 1/4 to 1 1/2 pounds of sliced quartered apples fills one pint, and approximately 2 1/2 to 3 pounds of slices or quarters fills 1 quart.
Preserving Fruit Color:
There are three ways to keep apple flesh from turning brown before and during freezing: (1) dip slices in a solution of 1/2 teaspoon of ascorbic acid to 3 tablespoons of cold water ( or use a commercial antioxidant), (2) soak them in a solution of 2 tablespoons of salt and 1 gallon of water, (3) steam-blanch them for 1 1/2 minutes and cool them in ice water before freezing.
Best Freezing Method(s):
Unsweetened Dry Pack: This is the simplest and fastest method for freezing apples, but it is not as good for retaining texture and flavor as the other methods. Treat apple slices with ascorbic acid or blanch to preserve color, pack them into a suitable container leaving 1/2 inch of headspace and freeze.
Sweetened Dry Pack: Place 1 1/4 pounds of quartered or sliced apples into a shallow bowl or pan. Dissolve 1/2 teaspoon of ascorbic acid in 3 tablespoons of cold water and sprinkle over the apples. Mix in 1/2 cup of sugar and pack apples in container, leaving 1/2 inch of headspace per pint and freeze.
Syrup Pack: The syrup pack method is useful if you plan to serve the apples uncooked (desserts or fruit cocktail), because it preserves a fruit's flavor and texture the best. Use a medium syrup (1/2 to 2/3 cup for each pint). Combine sugar and water in a saucepan and bring to a boil until the sugar is dissolved. Chill. Add 1/2 teaspoon of ascorbic acid to each quart of syrup. Pour 1/2 cup of syrup into the freezer container and add apples. If necessary, add more syrup until apples are covered and place a small piece of water-resistant paper on top to keep apples submerged. Leave 1/2 inch headspace for pints, 1 inch for quarts.
Containers & Packaging: Containers suitable for freezing should be airtight and include plastic bags, rigid plastic containers, heavy-duty aluminum foil, oven-ready casseroles sealed with freezer tape or glass containers.
Maximum Storage Time:
Apples in syrup packs or sweetened dry packs will keep 10-12 months when stored at 0F. Unsweetened dry packs should be used within 3-6 months.
Tips:
Some types of apples freeze better than others. In general, those that work well for making pies or sauce freeze well. Granny Smith, Golden Delicious and Winesap hold up well to freezing and resist bruising. McIntosh bruises easily and Red Delicious is the least desirable to freeze.
Shortcuts:
If you're freezing apples for pies, place sliced apples in a pie tin lined with heavy-duty aluminum foil or a freezer grade plastic wrap. Wrap the apples and place the pie tin shaped package into the freezer. When you're ready to bake your pie, simply remove the wrap, place the slab of apples directly into the pie crust, add sugar and spices and bake. The syrup used for syrup packs can be prepared a few days ahead of time and kept refrigerated.
Refrigerating Apples:
Sprinkle fresh apples with a little bit of water and place them in a perforated plastic bag in a cold part of the refrigerator. Apples give off an ethylene gas that can speed up ripening, so keep them away from other fruits and vegetables in the refrigerator. Store apples in the refrigerator for 1 to 2 months.