December 29, 2004
0

found this helpful
Hello to a fellow believer! I've been using mine for about 4yrs. now , after the last drip pot went bad( that made about 4 or so) I bought an old glass percolater at a rummage sale and never looked back! I recently got a poly perk by Daisy at Goodwill for $1.00 and I love it too. I like having the stove top one in case the power goes out. We have a gas stove. I gotta have my coffee in the AM. I can't hardly stand to drink the drip stuff anymore!
By (Guest Post)
January 1, 2005
0

found this helpful
My hubby and I fired drip coffee pots about 5 years ago. We buy every one we can find at thrift stores. Another good way to clean them is to use automatic dishwashing powder in the basket and perk through a cycle.
Rinse and refill with clear water and perk through another cycle. They are clean as a whistle. This really works well on the rely grungy ones you et at the thrift stores.
By charlie lundgren (Guest Post)
April 9, 2006
0

found this helpful
I have hard,city water and I get a calcium buildup on the bottom of my percolater how can I get this out and keep it clean. I hate drip coffee!
Editor's Note: Take about 1 cup of white vinegar and put in the percolator with water. Let it run through it's cycle. Do this about once a month and it should help keep it clean. Another thing that works well is fill the percolator with water, then put 2-3 TBSP. of Cream of Tartar in the percolator and run it through the cycle.
July 3, 2006
0

found this helpful
Thanks sooooo much to joesgirl!! I can finally clean my fabulous Sunbeam electric percolator from the 1950's! It still works great but I had not been able to clean it out... since the cleaning agent I used for decades is no longer on the market.
I am hoping that your advice is for a STAINLESS STEEL interior (electric percolator).
Now, I all I need is a very small bottle brush to clean the curved spout out! ANY IDEAS, Anyone ??
Thanks!
By jean (Guest Post)
July 3, 2006
0

found this helpful
For Lu in California- Get a chenille style pack of pipecleaners from a craft store to use in the spout of your coffee maker.
By JoAnn,from PT St Lucie fl. (Guest Post)
August 3, 2006
0

found this helpful
I use about 4 tbsp of Cascade or Electrisol dishwasher detergent. Place the Cascade in the basket and perk. Wash with soap and water, rinse well. Repeat if necessary.
August 20, 2006
0

found this helpful
Is this cleaning tip with soapy water and soda referring to a CorningWare electric pot also? I hope so. I love my percolator and don't want to have to revert to the drip type again.
After having three die on us within a very short period of time, a friend bought me this one at a thrift store when I mentioned I would love to have a percolator again since our water here kills drip pots. I remembered, when, in the good ole days, how great coffee tasted when brewed in a percolator.
I was thrilled with the fresh taste that drip coffee makers just can't give you.
Over time, of constant use, it is stained and has a black build up in it, and no amount of regular cleaning will remove it. I tried using, like, Efferdent Denture Cleaner as suggested, but it didn't do anything but make the coffee bitter until I could get it all rinsed out. I ended up pouring a whole pot down the drain. Thanks for any feedback on this.
February 6, 2007
0

found this helpful
This is great, my perk has been delivering bitter coffee for a while. I am going to try the Cascade.
In the interim I have been using a french press, which is quite delicious, but doesn't stay hot very long.
By Steve (Guest Post)
November 5, 2007
0

found this helpful
I have a electric percolator that was black at the bottom. I put 2 tbls of Cascade in the basket and ran four cups of water, then I repeated with 8 cups and WALA my perc is like new. Your advice was great. I didn't have to buy a commercial cleaner etc. I then ran clean water through a cycle wiped the inside with a non abrasive pad and have a BRAND NEW Coffee maker.
November 6, 2007
0

found this helpful
Thanks a bunch!!
By ANNEE (Guest Post)
September 12, 2008
0

found this helpful
I was at my wits end and about to disgard my electric percolator as the cleaner was no longer sold at my local grocery store. Your advice worked and I am thrilled!
Thank you so much!
By Andrew Anton (Guest Post)
September 16, 2008
0

found this helpful
Somehow the posted remedy did not quite work for me. After I tried putting Eletrasol in the basket and ran water thru the pot a second time, it was not clean. So I tried using Efferdent tablets in the basket. I used 6 tablets with 8 cups of water in my 8-cup Electric Farberware, which may have been an over-kill, but nevertheless 6 tablets did work. The build-up just peeled away and was floating in the pot when it stopped perking. Then I ran another 8 cups of clean water thru, and it was like new - out of the box new!! I just wiped some areas with a damp towel to remove any leftover belmishes and polish it up.
By Vicki (Guest Post)
September 16, 2008
0

found this helpful
Holy Electrasol! you guys are amazing! I tried the powdered dishwasher cleaner in the basket and I was astounded at the trash that just floated out. I am running a second "brew" now to clean up the last bits. Thank you all so much for your experience!
By Snorg (Guest Post)
January 5, 2009
0

found this helpful
NEVER use any kind of soap when you clean your percolator, it is very hard to get rid of the soap taste.
For a 10 cup percolator put in 8 cups water, then 3 table spoons washing soda, then 2 cups plain chlorine bleach. Perk for 20 minutes. Then use a dish mop to scrub inside and out. Rise well with hot tap waster. Then perk 10 cups of cold tap water, rinse well with cold water. Your percolator will be clean like new with no soapy taste. Here is a pic of my percolator.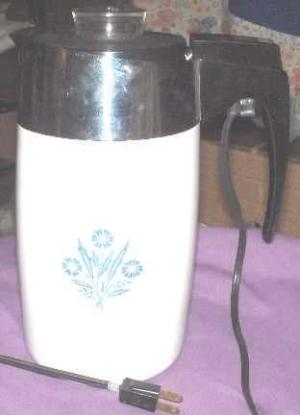 July 8, 2017
0

found this helpful
Does anyone know why they did away with the original dip it for perculators ?