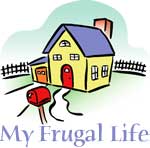 Once again today, I scored at the thrift store. Last week, I did very well at Aldi. My family is considered "upper middle class" and yes, we shop at such stores. One reason we save money (and invest it) is because we are able to save so much by good frugal shopping habits.
This is April 30th, and here are some of the deals I have gotten just this year:
First, I recommend everyone check out their local Freecycle group and Craigslist. Here, I have scored 3 free roosters (from a party that had too many), and 3 dozen fertile eggs to put into my incubator - about a $75 savings over buying chicks at the farm store. I also got a free playschool type of climber for some friends of mine who have toddlers. It was in like-mint condition. I also got some iris bulbs and a couple of willow tree starts.
One of our local thrift stores has days where all books are 25 cents each. We home school and this is a treasure trove for us. We have several thousand books in our basement library (they are out on shelves in categories, easy to find) The bookshelves were a gift from my dad, after he (according to my mom) "drug them home" from a library auction. They are double sided and 8 foot tall, with 7 shelves on each side. He paid 50 cents each for them. I found some online for $300 each. He gave us 5 of them, and has 2 more that we can have next time we go back home.
Today was Purple Tag day at another thrift store. All items with a purple tag were 50 cents each. We came home with 25 summer shirts for my daughters. I also found a toddler's bike with training wheels for $8. I do part time child care and a very special 4 year old boy will love that.
Thrift stores are also a great place to find fabric. I buy flannel sheets and use them to make winter PJ's and night gowns. I usually pay 25 or 50 cents per sheet. Each sheet, depending on the sheet size and girl size, makes at least 1, if not 2 nightgowns or PJ's. Thrift stores are also a great place to find missing Tupperware lids and to replace broken glass lids.
I love to coupon, and do some extreme couponing. However, all items can't be bought this way. For many of these items, I shop at Aldi (who does not take coupons and where you sack your own groceries). I usually buy in bulk here, soup by the case and fruits and veggies by the case as well. A gallon of milk at Aldi is $2.57. At our local grocery store it is $4.89 for the same gallon, same brand. Even with the 50 cent coupon, that is in the paper weekly, Aldi is much cheaper.
We also have a local bulk Amish store I love to shop at for baking goods. Here I can get a 50 lb. bag of wheat flour for $20. That is 40 cents a pound. Much cheaper than getting a 4 lb. bag for $4 or more at the traditional grocery store. I also get a 2 pound container of yeast for $4. That is half of the price the grocery store wants for an 8 ounce jar. This is also a great source for local honey as well.
And, speaking of honey - if you live in a rural area, you might be able to work out a deal with a honey man or bee keeper. Ours is a simple deal - they put hives on our farm, and in exchange, they give us part of the honey.
There are many ways to save money around the home by shopping wisely. Don't be afraid to try new stores, bulk stores, thrift stores or $1 stores. Bartering also works!
Don't fall to the myth that only "poor" people shop at such places. I have even run into our family doctor at such stores. Smart people shop that way to save money. Ignore the comments of friends. Normally, they are in debt themselves, and it makes them feel better to put others down regarding money issues.
By mom-from-missouri from NW, Missouri
Do you have a frugal story to share with the ThriftyFun community? Submit your essay here: http://www.thriftyfun.com/post_myfrugallife.ldml