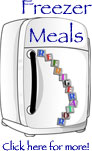 This classic coffee cake adds the right amount of fruit in addition to a hint of cardamom for a truly unique and delicious breakfast treat. The Cherry Coffee Cake is wonderful when served with coffee, tea or alone!
Ingredients:
2/3 cup softened butter
2/3 cup packed brown sugar
2/3 cup granulated sugar
4 eggs
4 cups all-purpose flour
1 tablespoon baking powder
1 teaspoon ground cardamom
1/2 teaspoon baking soda
1/2 teaspoon salt
1 1/2 cups buttermilk (can also use sour milk)
2 cups dried tart red cherries or cranberries
1 cup all-purpose flour
1 cup packed brown sugar
1/2 cup softened butter
Directions:
Line 2- 8 x 8 x 2 inch baking pans or 9 x 1 1/2 inch round baking pans with foil making sure to extend the foil over the edges. Grease the foil. In a large bowl, beat the butter with an electric mixer on low to medium speed for 30 seconds. Add the sugars and beat until fluffy. Add the eggs one at a time, beating thoroughly after adding each one. Combine the flour, baking powder, cardamom, baking soda and salt. Add the flour mixture and buttermilk alternately to the beaten mixture and beat on low after each addition until thoroughly combined. Fold in the dried cherries or cranberries. Divide evenly between the prepared baking pans.
Next, make the crumb topping by combining the all-purpose flour, brown sugar and softened butter in a medium bowl. Stir with a fork until it is crumbly and top evenly over the prepared cakes. Bake the cakes at 350 degrees for about 40 minutes or until they are cooked thoroughly. Cool the two cakes completely before wrapping to be frozen. The cherry coffee cakes can be frozen for up to three months.
To serve the frozen Cherry Coffee Cakes, thaw in the refrigerator overnight.
The Cherry Coffee Cake yields 9 servings each.