July 16, 2010
0

found this helpful
Oh Vi, what a horrible thing to have happened to you. If it were me, I think I'd have it published in very newspaper across this country. What company were they made by, the brand etc, where you purchased the gloves. I am so sorry. Hard to imagine that we don't have better ways of checking for this type of thing before we've allowed them to load up every store in town with the things.
I hope that you are soon well over the condition, and that it doesn't come back like they sometimes
do. I also hope you have a good lawyer. This is really terrible.
Bless your heart.
Pookarina
July 16, 2010
0

found this helpful
If you have an attorney, call their office and find out the statute of limitations of your injury. In some cases they give you so many years to open a claim.
Can you remember the name of the store where you purchased the gloves?
July 17, 2010
0

found this helpful
Sorry this happened to you, dear girl. Good of you to warn others. Who knows they are prone until it happens? Hope you recover completely.
July 17, 2010
0

found this helpful
I'm so sorry for your pain. Thanks for sharing. Interesting about 9 year ago I broke my ankle & foot. A cast was put on & 3days later I had the worst burning & itching! Called Dr. to report/ask what I could do & was told "usual symptoms of casting". After 5days I just couldn't stand it any longer. I cut the cast off myself. The smell was awful.
My foot & ankle looked exactly like your photos! The "rash" was going up my leg. I went to Dr. office & all had never seen anything like it. Was ruled as "allergic" react to casting material. My "rash" took 5 months to clear up,round of antibiotics, 4 tubes of cream,long healing process on broke bones. Huge mess. too this day I have minor scars on my foot, ankle & lower calf.
July 18, 2010
0

found this helpful
I bought the gloves at Target. I bought 3 pair. Here is a picture of the one I didn't wear. I went to Target and told them about what happened and the guy said he was sorry, and they don't carry that brand anymore. (They still do) He said he would give my money back if I wanted and had the receipt. I didn't have it because I bought them on sale at the end of the season.
Anyway I couldn't prove it was the gloves because the Dr.'s didn't know what was causing it. One said I might have been allergic to them, Another said I washed my hands to often, another said I should stop using soap and not take baths or shower except every other day and just tepid water, step in, get wet, step out and pat dry. I got so many different opinions I just about gave up. The rash spread to my legs and neck.
Finally one dermatologist gave me 8 shots in a circle on my left leg, about 10-12 in the right leg not in a circle and 6 in my right hand.Said if it helped he could give me shots in the left hand too.My hands both are better and my left leg, but the right leg has a patch about the size of my hand, still peeling, itching and red. Guess I'll have to continue the twice a day CeraVe cream and the prescription cream for a long time yet.
And thank goodness it is not catching. Really ugly though, people are afraid it is when they see it.
*** txrosee** I hope you have a notice on your medical chart of the allergy.
Thanks for your concerns everyone. I just hope this post helps others . GG Vi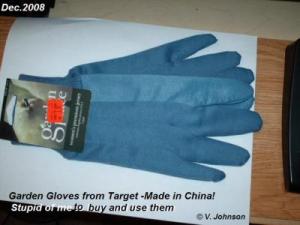 July 18, 2010
0

found this helpful
Buy gloves made in the USA.