February 11, 2009
0

found this helpful
I have spent hours researching quality foods for my fur-babies, so I understand wanting to give them the highest quality. And, I also can't afford the super premium stuff. I feed Chicken Soup For The Dog Lover's Soul brand dog food. It is loaded with good stuff, and they no longer use a certain icky chemical preservative. I have included a link to their webpage, and while there you can click on "Find A Dealer" to locate a distributor near you. www.chickensoupforthepetloverssoul.../
They offer both dry & canned formulas. I pay $34.99 for a 33lb. bag- that should last a l-o-n-g time for your chihuahuas. Another recommendation is Natural Balance- it is also a very good food, with dry, roll, and canned formulas, but a little more expensive. I do know that they have smaller kibble size, and you can find this at most pet stores. Also, if you buy them at Petco, be sure to enroll in the frequent buyer program- buy 10 bags, earn a free one! If you ever need to do research on a certain food, the absolute best website is
http://www.dogfoodanalysis.com
. Just about every brand is there- and Eukanuba doesn't perform very well on the site. They break down all of the contents and either a "yes" or "no" for recommendation. Also, definately ask your vet how much to feed each individual dog- it is good for their health. For the two brands I have mentioned, I have had great results. All of my dogs are healthy and have soft shiney coats. I hope this helps!

Robyn Fed
Silver Post Medal for All Time! 398 Posts
February 12, 2009
0

found this helpful
I cant afford Eukanuba either. I use pedigree just be sure the letters PAE are not on the good if used by mark, since these letters on pedigree have been recalled. Check the fda dog food recall site by putting dog food salmonella recall in the search bar.
Starving your dogs will not help them. Pedigree will cause them to poop much less because there are not a lot of useless ingredients in it.
Hope this helps, also check out dogchannel.com, it has lots of helpful tips there for dogs and puppies.
racer
By Erika (Guest Post)
February 12, 2009
0

found this helpful
Since you are gone during the day, it would be to your babys' benefit if you had them on a feeding schedule. Free feeding isn't bad, but it also isn't necessary. Unless you have MANY pups, a high quality food should be fairly affordable for small dog breeds. You can go to the top of the lines and get a Top Premium food (like Wellnes, Canidae or the like), but you can also go with a very good food (Like Purina ONE) and it won't be that expensive.
Whatever you choose, make sure you transition the food slowly or it will most likely upset their GI tracts. Start maybe 50/50 and slowly over a week or so go to the new food type. Do remember, 'Garbage in, Garbage out'. And by this I mean, if you are not feeding a quality food, versus something with lots of filler, your dogs will have more output and perhaps messy output.

February 12, 2009
0

found this helpful
I thought we were feeding our first dog good, healthy food, but when we went to adopt our second dog, I found out from the rescue group that the food wasn't quality. When you feed a quality food, the dog will poop less, and their vet visits will be cheaper because they'll live healthier. I also learned from our groomer I was feeding the dogs the wrong amount of food. Like LuvMyFurKids recommended, I would ask your vet to make sure you're feeding the correct amount.
Once we adjusted our feeding amount, our 15-lbs. bag of food went from lasting close to a month to well over a month and a half. We feed the boys Fromm food and pay $23 for a 15-lbs. bag. But when were were getting The Good Life Recipe from Walmart, we were paying about $9 for a smaller bag (not sure if it was about 7-lbs.?). So the price for a really good, A+ food didn't jump much. And we feed them less since the new food has no fillers, by-products, the gross stuff.
Check out www.fluffydog.net/Articles.php for The Facts about Dog Food article and pug.meetup.com/.../viewthread?thread=3177578&listpage... for a way to grade how healthy your dog's food is.

February 12, 2009
0

found this helpful
I rescue Shih Tzus with serious health problems or severe abuse. Have changed to IAMS Proactive Health - Lamb & Rice. It is one of the few foods that you can switch to that will not upset their stomachs! Be careful, as at Walmart they sell 17.5 lbs bags for $18.77, but buying at PetsMart, I bought 22 lb.
bags for the same price!!! Make sure that you check the 'use by' date, as several bags at WalMart had expired!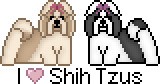 By Izza (Guest Post)
February 12, 2009
0

found this helpful
We have 3 chihuahuas, one is a miniature. My dogs eat whatever you feed them, including table scraps. We feed them 2 times a day, morning and afternoon. They poop normally, I think--once at 6 am and again when we get back from school and work. They did get sick when we only fed them dry food, so we like to add an egg and sometimes 1 %milk. They're still alive (3, 2, and 1 yr old),and their coats are beautiful and shiny black! They have even had the cheapest canned food, but they poop too runny with that.

February 12, 2009
0

found this helpful
I don't know how much you're feeding, but my 10-15 lb Pomeranians each get 1/4 cup of Vet recommended food in the morning and evening. They'd eat more, but that would be overfeeding them. A 17 lb bag of food runs about $20, and lasts about a month. Depending on how big your chihuahuas are - you may be overfeeding them.