All year long I look for pretty jars and bottles at flea markets and junk shops for making interesting gifts. I usually don't pay more than $1 for each one, usually a lot less.
Little bottles are great for beads. Put 3 or 4 together and you have a useful, decorative gift that organizes, too -- something the creative type appreciates! Use up some of your extra supplies, like foam stickers and tags for the scrapbooker. Nails and brads and other hardware are great for your man's workshop.
I was lucky enough to find vintage milk bottles from our local dairy that closed down 30 years ago. I filled them with candy, tied on red fabric tops and ribbon, and everyone loved it.
Time To Make:
15 minutes
Level Of Difficulty:
Easy, for anyone, even the grade school set.
Cost:
Usually under $5.
Materials:
jars in various sizes, wide mouth are most versatile
contents: beads, buttons, foam stickers, candy, shortbread cookies, craft items, hardware items, etc.
lid trims: fabric, doilies, wrapping paper, ribbon, tinsel, holly berries, stickers, etc.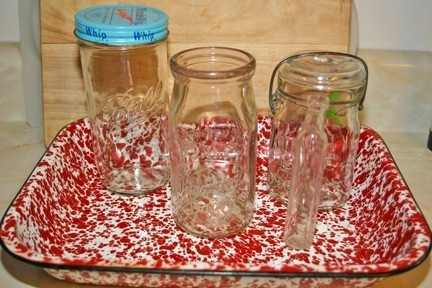 Instructions for the jars shown here:
Button Jar:
Place vintage buttons in small jelly jar with gold lid. Tie on ribbon and gold cord and holly berries. Add Victorian angel sticker, more buttons on top. Other sewing ideas: tiny thread spools, thimbles in a tiny jelly jar, fancy straight pins, etc.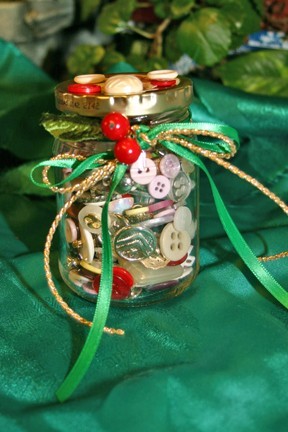 Marker Jar:
Place markers in tall wide mouth jar, top with wrapping paper, stickers, ribbon. Other ideas would be crayons, paint brushes, pencils, erasers, colorful binder clips, tiny paint pots, wrapped squares of clay, etc.
Cocoa Jar:
Layer wrapped starlight mints (to crush over hot cocoa), your favorite cocoa mix in a baggie, and mini marshmallows, also in a baggie, into a vintage wide mouth pint milk bottle. Tie on ribbon, add foam stickers of candy and cocoa mugs. Attach instructions for making one serving.
Bead Jar:
Fill little bottles with tiny beads. Cut a green satin fabric cirlcle to fit top and tie with red cord. Several of these in different sizes make a stunning gift for the crafter.
Sticker Jar:
Place foam stickers (a good way to use up your extra stickers, tags, diecuts, even scraps, etc. from previous projects) in a glass-topped canning jar. Tie on fancy ribbon. Decorate with stickers from jar. Several of these would be fun for the scrapbooker.
The possibilities are endless! Just remember to keep your eyes open from now on for fun jars!
By Cindy from Waynesburg, PA