January 3, 2010
1

found this helpful
It is really hard to tell you what a dog should weigh; especially a cross (because the body shapes, leg lengths, etc. can vary); and especially with a small dog--as a pound or two can make a dramatic difference. Next time you're at the vet, I am sure he/she could tell you.
In the meanwhile, you're better to look at physical signs. Here is a good article:
http://vetmedic T_bodyweight.htm
Good luck. I don't know about your dog; but with larger dogs, vets often recommend raw baby carrots for a treat that is both low-cal and nutritious.
January 20, 2010
0

found this helpful
Call your vet.
February 21, 2010
0

found this helpful
Definitely ask your vet first. Both breeds weights can very some. What is right for one is incorrect for another. I have both. My Min Pin is big for the breed and I try to keep him below 14 lbs. My Chihuahua is good at 6 lbs. Both are feed once a day in the morning and separated by a gate. The Min Pin is a canine vacuum cleaner and would be twice his size if I let him.
The Chihuahua gets 1/3 c and the Min Pin gets 2/3 c dry kibble. Low calorie dog treats or raw carrots for training. I keep a close watch on the weight (digital baby scale weekly) for all my pets (cats included). It's easy for them to gain more than you would like by the next annual exam. Just as with humans, it's easier to maintain proper weight than to try to lose the excess.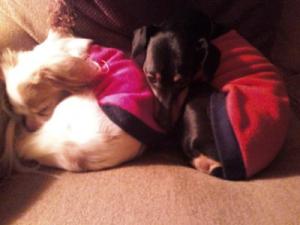 July 19, 2010
0

found this helpful
Thanks for all input. I know no one could know the exact weight your dog is going to be.
But it helps to have a guesstamation on what it is supposed to weight. My pup Husker is the sweetest little snuggle buddy!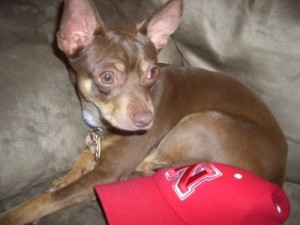 July 18, 2017
0

found this helpful
I have just got a female minpin. I researched weight. The ideal weight for a female is 8-10. pounds. A male can go up to 14 pounds. My new dog is 11 pounds. A bit overweight for her health.
I've don't give her any table food. But follow the directions on her dry dog food. I have limited her dig treats to one a day. And I walk her to help get her weight down a bit. Hope this info helps you