How can I get my 4yr old and 16 week old male cats to stop fighting? The kitten won't leave the older one alone and it results in him being pinned down and my older cat is bitting his genitals and they are attacking each other or chasing each other all over the house. I still have to keep them apart most of the time and the kitten sleeps in my room. I don't know what else to do. The older cat has had the kitten pinned by the throat and hurt him. I have had to put them in separate rooms.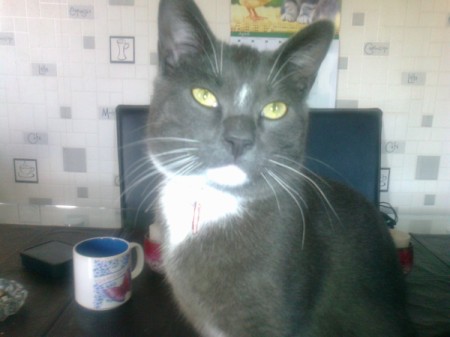 Answers
October 16, 2017
0

found this helpful
Best Answer
You have to treat them as if they've never met before. Separate them completely in different rooms then let them see each other very little, then more and more over a span of days.
October 18, 2017
0

found this helpful
Best Answer
Check and be sure the kitten is really being hurt. Kittens can be real pests and adult cats will not very gently put them in their place. There can be a lot of hissing growling and yowling. Be sure and check to see if the kitten is really being physically hurt. Also be sure that both are neutered. My rule of thumb is if the kitten goes back for more, he hasn't been hurt too bad.
That said you do need to be careful. Bruising punctures scraping of the skin would be crossing the line for me. You certainly can try reintroducing them, but kittens need a buddy, not a curmudgeon. Can you get another kitten of the same age? They wear each other out and things are much more peaceful. If you cannot get another kitten get a lot of toys and play with your kitten for 30 minutes twice a day. After 8 months or so things slow down. Best of luck to you.
Answer

this Question

...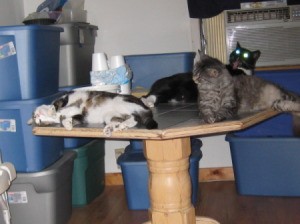 My wife and I have four indoor cats that fight with each other or pick on each other constantly. We cannot let them outside, as we have a neighbor that will kill them as soon as he sees them out by themselves. The authorities here will do nothing, even though some of our kitties have been shot, poisoned, or run down near our home. So, out of thirteen, we have four left.
Only two of the deceased kitties died natural deaths. They were both eighteen and died within two months of each other. What can we do to keep our babies from attacking each other?
By VIETVET
Answers
May 16, 2011
0

found this helpful
Indoor kitties need a variety of things to do. Ours have several spots set up for napping, a couple of areas where they can sit and look outside, a good scratching post in a prominent place, lots of toys (no catnip, one of the boys becomes too aggressive when exposed), and a fold-up play tent that is used for hiding or pouting. Above all, they get lots of attention and affection, and whenever two are vying for our attention we pet both at once to ease the jealousy. We still have the occasional tiff but overall they get along well.
May 17, 2011
0

found this helpful
What beautiful kitties! The Animal Planet channel has a new show titled "the cat from he*l". It is worth watching because it deals with bad behavior in indoor cats. Most bad behavior comes from territorial issues or boredom. The cure seems to be the same for both behaviors. The territorial problem is solved by changes to the house that allow cats to be up above the action. Arrange the room so they can get to window sills, curtain valences, tops of tall furniture, and cat trees. This and toys seems to solve the problem almost always. Several folks have put shelves on the wall with brackets so the cats can be up, or get to higher places.
A shelf installed under a window is a great perch for observing the outdoors. You can hide treats around the house so they can hunt. "Da Bird" is my cats favorite toy, but they will chase it until they are completely winded and gasping for air, so I stop when they look tired. There are some great cheap cat toy ideas on this site. We have a outdoor deck they cannot get down from, so they go there to lay in the sun or munch wheat grass or dig in a flower pot. Good luck. Hope the nasty neighbor moves away.
May 17, 2011
0

found this helpful
Do you mean you had thirteen Cat's at the same time in a confined space? This can cause as many problems as keeping the same number of Dog's under the same conditions.
February 7, 2013
0

found this helpful
Here are my suggestions:
Ironing boards with pillows on them all around the house, and tie them up where they won't fall over.
Get lots of different food bowls and don't make them eat next to one another, that will cause fights.
Get an entertainent center from freecycle.org and put cushions on it and make a cat area. Make lots of hidey holes where they can hide, boxes do great for this.
The main thing to all of this is making them each feel they have a place to go to that is theirs alone.
I have a few cats that have moved into a laundry basket that is filled with storage things and I keep a few clothes on there for them.
You can also buy little cat or dog beds and place them around the house on chairs you get off of freecycle.org or at garage sales. THe idea is to be high when you are a cat. Higher up is less threatening.
Blessings,
Robyn
Answer

this Question

...
July 14, 2013
1

found this helpful
Almost 2 years ago we got a female kitten and have been following the introduction steps up to the eating insight of each other part. Our now almost 7 year old female still won"t eat insight of the almost 2 year old female and still walks around growling! So far the poor kitty gets yard time alone every day and still stays locked up during other times! What to do? Can I chance a face to face meeting? It's been so long and they know each other's scent and can see each other through the gate all the time?
By C Woodgett
Answers
July 17, 2013
0

found this helpful
I have 2 cats who do not like each other at all! I have had the older one for about 7 years and the younger one for about 3 years. I got them both as 6 week old kittens. It doesn't matter what I have tried, they don't like each other. The older one growls at the younger one all the time. I have a food dish and a water dish for each of them, plus an extra one.
I have 4 litter boxes situated so that the one using the litter box can see all around and not get "sneaked up on" by the other cat. Every day I put one cat into the bedroom for a few hours so the other cat can have "alone time" in the rest of the house. They get into fights a few times a week, but I have discovered that it is mostly growling and spitting.
I have 3 high points in my living/dining room...a wall unit, a cat post, and a tall book case, that they sit on and watch each other. I have 3 other cats that they both get along well with, and these other 3 cats get along really well. It's just a personality clash with these 2 as they are both macho cats. Just like people, all cats do not get along. It's a fact of life and they will probably never change! If they start fighting, I just scoop up 1 of them and put them in the bedroom for a while! Good luck, but you may just have to put up with the growling!
August 6, 2013
0

found this helpful
You need to watch episodes of Cesar the Dog Whisperer. The same rules apply to cats.
Answer

this Question

...
September 10, 2013
0

found this helpful
I just adopted a 5 yr old cat by the name of Tobie a few weeks ago. My other cat is 10 yrs old, and she hates him. Once in a while I'll see them tolerating each other sleeping on separate corners of the bed, other times they are fighting with growls hissing and crying. I'm at a loss of what to do. I really don't want to give up either one of them as they have wormed into my heart and I love them very much. Can I get some advice please?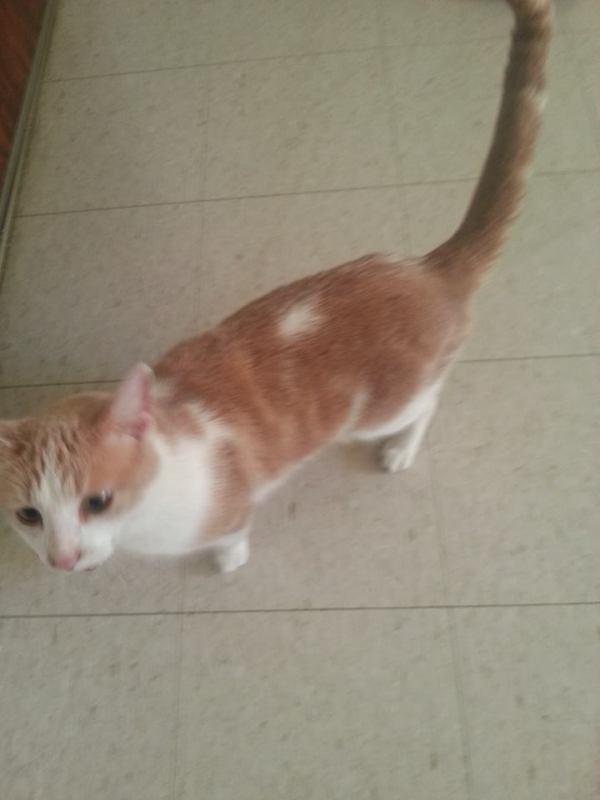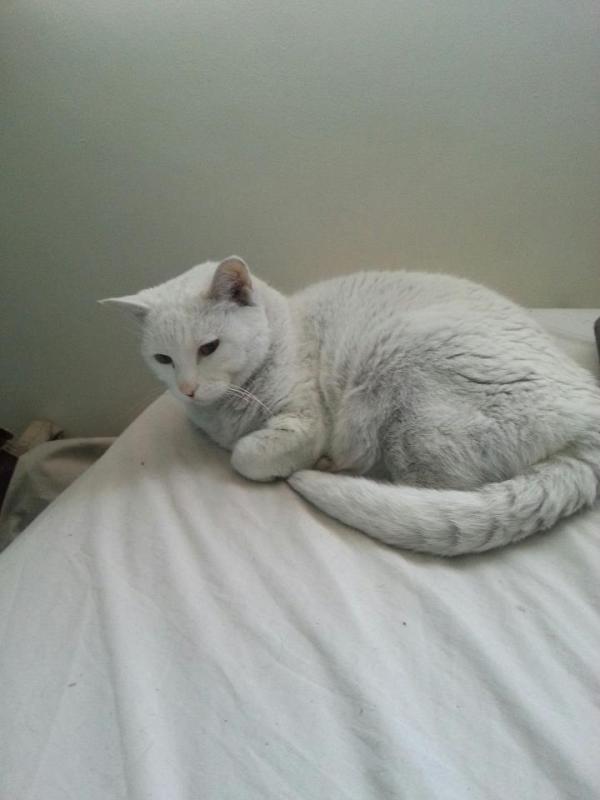 By Melynda S.
Answers
September 12, 2013
0

found this helpful
This is really typical for mature cats. It just takes awhile (like a couple months at least) for them to get all their territorial stuff worked out. The fact that they will sleep on the same bed is very promising. That they have not had a knock down drag out fight that leaves you with vet bills is also very promising.
Here is what I have found helpful in blending cats. Remember it may take months. Expect hissing growling and a few spats. Dont tolerate serious aggression. I have a squirt bottle for this should it occur. Make sure they have their own space. My cats each have a room where they stay when they are brand new to the family. These remain the places they retreat to when they want to be alone. One cat likes to be up high. She has tower, a stack of fabric boxes with a cat bed on top. The other cat has a bed on my desk. Everything else is communal and shared.
My two dont love each other but they are buddies of a sort. The female body slams the male every morning before breakfast. Then they both get up and beg for their food. Always inscrutable. If they will eat within sight of each other, that helps too. Lots of affection and lots of physical play help a lot. Then everyone wants a nap instead of a squabble. Your two are adorable. Good luck to all of you.
September 12, 2013
0

found this helpful
Don't worry too much. I have a tuxedo male and a female calico who didn't get along for the first 3 years. She was mature when I adopted her, and Snickers was here already. Candy was fresh, and would swat at Snickers every time she passed him. He took it and rarely retaliated at first, but after a while, he would sometimes swat her back as she walked away. I would always scold her and tell Snicky he was a good boy. Gradually, the swatting stopped, and they could pass each other and even stop and sniff without incident. Whenever that happened, I would cheerfully say "Nice kitties! Two nice kitties! Very nice!" to let them know that they were behaving well. Now they actually touch noses and rub their heads against each other! They're not pals, but they're not unfriendly anymore. It just takes time.
Candy had issues when I got her; she tended to bite me at times, but she has learned not to do that, and only sometimes forgets herself. She tends to try to bite or nip when she's being petted - she likes it, but after a few strokes, she tries to nip. I think she was badly treated by her previous owners, and turned out on the streets, before she was rescued. The rescuer I adopted her from told me to blow in her face when she bites, and it really works! She also knows not to bite when I say "No biting!" She's actually very affectionate and people oriented, so it's worth using patience and gentle correction, and she has responded.
Eventually your two cats should get used to each other, and may even become friendly with each other. Good luck!
Answer

this Question

...
March 14, 2012
0

found this helpful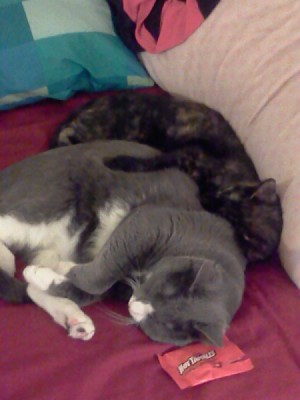 I have two cats, a male and a female, both are fixed. They are 2yrs old and I adopted them at the same time. The female cat will bathe the male, but the moment he starts to to do the same to her she bites his neck and attacks him. She doesn't hurt him and he doesn't hurt her, it's just a few rabbit kicks to her head and she leaves. Why does she do this?
By Christy
Answer

this Question

...