A nice addition to match any decor and a great way to save that change.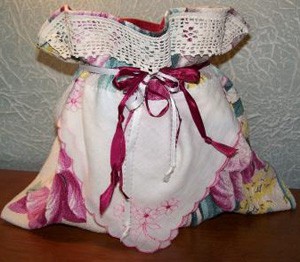 Approximate Time: 30 minutes
Supplies:
7 inch empty container
14 inches of 2 inch lace
24 inches of two 1/4 inch ribbons
24 inches of 1/2 inch ribbon
2 pieces of drapery or other heavy soft fabric
antique hankie
2 inch x 26 inch matching scrap of fabric
2 inch x 26 inch fusible web
sewing machine
needle and thread
iron
Instructions:
Any size container would work of course, mine happened to be a empty plastic peanut container when the idea hit me. I had a scrap of vintage, Victorian drapery material leftover that I used. The hankie was in my collection.
Sew a 2 inch scrap of matching fabric to the top of one square of fabric, right side to right side. There is no need to hem this scrap unless you want to.

Fold this scrap and then hem to the wrong side of your drapery fabric.

Fuse fusible web between this scrap and your drapery fabric.

On the right side of this same piece of drapery fabric place your lace across the top from one side to the other, down about 3 inches. Far enough that when you tie your ribbons under the ring of your container and above the fat part of your container your lace will be below the tie.

Fold your hankie in half and finger press for a mark to hand stitch it by. Position it where you want it and use a long running stitch of matching thread to hold it in place. Bring the top half down over the bottom.

Lay your two squares right sides together and hem around the three raw edges. Turn right side out and place your container inside your completed bag. Tie your ribbons around the container just above were it juts out.
Your change will be hidden from view by a beautiful part of your decor and you'll be surprised how fast it adds up. My husband and I never spend out change when shopping, we bring it all home and deposit in this container. It has taken us on vacations and gotten us by many times when money was tight.
By Ann from Loup City, NE
Read More

Comments

I am looking for directions on how to cover a cardboard box (the box and cover) with fabric, to decorate a walk in closet, and a baby's room.
Can you help? Thanks!
Cheryl from Suffield, CT
Answers
By K (Guest Post)
January 5, 2008
0

found this helpful
This link shows how to measure etc:
www.waverly.com/.../storage_boxes.asp
They use fusible web to attach the fabric.
Here is a link for using spray adhesive to attach the fabric:
www.diynetwork.com/.../0,,DIY_13747_2270758,00.htm
I have always just used Elmers Glue and water...about equal parts or slightly less of water and brush it on the box with a foam paintbrush.
I just more or less eyeball it for measuring the fabric. I am so used to wrapping gifts with wrapping paper the way they always show on tv with the lid separate...using fabric is pretty much the same way.
If you are unsure you could use a paper bag or newspaper to make a template that fits and then use that as a pattern to cut your fabric.
The only things offhand I can think of to watch for is to make sure the fabric isnt too see-thru where the pattern on the box will show through.
And to make sure your fabric isnt to thick. You want to be sure once you have your fabric on both your lid and the box that the lid will still fit on and then open easy still.
When you are done you can add trims or make closures or labels. Some people also put a layer of batting under the fabric on the lid for a padded look but they wont stack well if you do that.
Good luck to you!

January 5, 2008
0

found this helpful
I have covered several boxes with fabric using a low temp glue gun. Just wrap like a present.

Marty Dick
Bronze Post Medal for All Time! 169 Posts
January 5, 2008
0

found this helpful
You can cut your pieces to proper size and attach with spray adhesive.

January 5, 2008
0

found this helpful
I would use spray adhesive on the surfaces of the box, like the top of the lid for example, then pleat the corners tuck them under (pull them tightly) and use hot glue to glue under the lip. If you care about the inside of the boxes I would get some felt and cut it to size and spray adhesive it down.
Also never try to move the fabric after you've put the spray adhesive on it will get messy and annoying. And if the material isn't thick enough it will bleed through.
I like 3M spray adhesive. it comes in a big can for the money. The elmers is usually with scrapbooking items and is usually more expensive for the size, and from what I've heard not so great for bigger projects.

January 7, 2008
0

found this helpful
Ive used elmers type glue and ive used a hot glue gun. I only put the glue on the lines of the edges as i go pulling, THEN cutting to fit. I leave enuf room to fold a quarter inch or so so i dont have any raw edges.
By sphinxrising58 (Guest Post)
December 10, 2008
0

found this helpful
Having made many things out of cardboard, I also learned that attaching fabric to cardboard can be tricky, in that most glues will attach fabric, but as it dries, the cardboard tends to warp.
The solution is contact cement in a spray form.
First, you must seal the fabric so it does not soak up all the cement like a sponge, which can be done by various items found at Joann's Fabric.
Getting some fabric stiffener would not hurt either, as it makes cutting the fabric precisely much easier.
Spray both the side of the box & the fabric with the contact glue, allow to dry, then very carefully lay the fabric over the cardboard a little at a tme ( as you only get one shot at getting it right ), spreading out the frabric flat as you go along.
Allow some overlap ( which you can always trim off later ), as this way, you know you will not end up with any bare spots showing along the edges.
Do a side at a time until you have effectively covered the entire surface & allow 24 hours to dry, after which, you can then apply fabric sealant if the fabric is decorated, or paint if not.
You might want to consider doing this part outside, as the fumes will about kill you & anything else that breaths in the house.
By Nancy (Guest Post)
February 15, 2009
0

found this helpful
Has anyone used medium-weight cotton on top of some quilted batting? thank you!
hitechspecialty @ airmail (DOT) net
disregard spaces please, and place a dot. in place of the word DOT :)

June 20, 2009
0

found this helpful
Thank you K. for your instructions on how to cover a box. I've used the elmer glue/water method on two cardboard containers, and it works great! Thanks so much!
Answer

this Question