A nice addition to match any decor and a great way to save that change.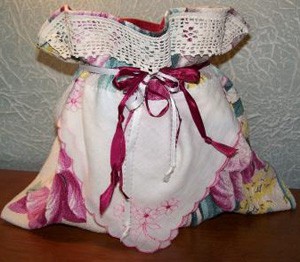 Approximate Time: 30 minutes
Supplies:
7 inch empty container
14 inches of 2 inch lace
24 inches of two 1/4 inch ribbons
24 inches of 1/2 inch ribbon
2 pieces of drapery or other heavy soft fabric
antique hankie
2 inch x 26 inch matching scrap of fabric
2 inch x 26 inch fusible web
sewing machine
needle and thread
iron
Instructions:
Any size container would work of course, mine happened to be a empty plastic peanut container when the idea hit me. I had a scrap of vintage, Victorian drapery material leftover that I used. The hankie was in my collection.
Sew a 2 inch scrap of matching fabric to the top of one square of fabric, right side to right side. There is no need to hem this scrap unless you want to.

Fold this scrap and then hem to the wrong side of your drapery fabric.

Fuse fusible web between this scrap and your drapery fabric.

On the right side of this same piece of drapery fabric place your lace across the top from one side to the other, down about 3 inches. Far enough that when you tie your ribbons under the ring of your container and above the fat part of your container your lace will be below the tie.

Fold your hankie in half and finger press for a mark to hand stitch it by. Position it where you want it and use a long running stitch of matching thread to hold it in place. Bring the top half down over the bottom.

Lay your two squares right sides together and hem around the three raw edges. Turn right side out and place your container inside your completed bag. Tie your ribbons around the container just above were it juts out.
Your change will be hidden from view by a beautiful part of your decor and you'll be surprised how fast it adds up. My husband and I never spend out change when shopping, we bring it all home and deposit in this container. It has taken us on vacations and gotten us by many times when money was tight.
By Ann from Loup City, NE