By Janet in GA (Guest Post)
May 8, 2008
1

found this helpful
Top Comment
Because I use about three different types of flours, (sr,ap and spelt) and three types of sugar (cane, beet, and splenda) I need a lot of jars. Last year I found 8 1/2 gal canning jars for a dollar each. I use those to put the different things in. Then I also use those large pickle jars, which I got from the high school concession stand I worked at. I will paint the tops of them this summer to match the cabinets which are country blue.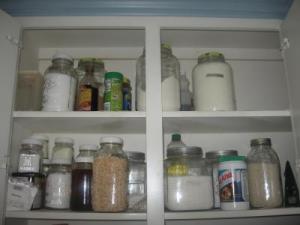 September 3, 2012
1

found this helpful
Top Comment
I re-use glass jars for food storage but hesitate with most plastics as they were not meant to be reused....just for one time use and that means the plastic is not safe. I always have plenty of glass jars to be reused and then there's no worry about them and I know they can break but I never seem to break any glass containers.
Canning jars are also very good to keep pastas, rice, macaroni, dried beans, etc in and they keep the food fresh. I got a hold of a dozen 1/2 gal size of Ball canning jars and they are just wonderful in my pantry for those types of things. I can see what's in them as well. Just be careful with using plastics for food storage unless it has the right recycle # on the bottom.

May 8, 2008
1

found this helpful
Great ideas. I also save my glass jars from spaghetti sauce, apple sauce, etc, and store dry goods like candy in them. It organizes things and looks pretty at the same time!

May 23, 2008
0

found this helpful
awesome!! how do u get the smell of the pickles n other stuff out of the jars, tho? thanx.
dru
By Janet M (Guest Post)
May 23, 2008
1

found this helpful
To get the smell out I just wash them really well and let them sit around without the lids on for a while with baking soda and vinegar in them.

September 3, 2012
1

found this helpful
Are you serious, there is bugs in rice? I knew about flour so I do store that in the fridge, but rice - wow. Guess I will need to do the same with the rice. Thank you for the great tip.

September 3, 2012
1

found this helpful
How long do you have to freeze the rice in order to kill the eggs?