November 2, 2008
0

found this helpful
Is Georgia Power your power company there ?
Either way their website (or check the website of your energy company) has lots of tips. Most will do energy audits which are free quite often. Sometimes they offer rebates or hand out free CFL bulbs. Recently our power company had where you could bring in 4 bulbs and 2 old lamps and they would exchange them for CFL bulbs and lamps that would fit them for free.
Also check into the billing program where they add up a year's worth of your energy bills and then divide it up so you pay a certain static amount monthly...instead of having really big winter (or summer if you use a lot of AC) bills and then tiny bills the other months. Also check to see if you qualify for assistance in anyway.
Tips and other info here:
http://www.geor ntial/energy.asp
(unrelated to your ? but: Do the same for your WATER bill. Look up the company website online or on your current bill. Many will send you free water-saving sink & showerheads for free and will have money saving tips on their website.)

Here is more on 'phantom energy' which I read can be responsible for up to 40% of a household's electronic and appliance use:
The pie chart is what percentage of power use in the US is from what source. Keep these in mind as you read the tips on the energy page link above and try to concentrate on the ones with the highest % to start with. But even the little stuff will add up.
Our household has been working on this ourselves. We got our CFL bulbs and power strips, filled the empty spaces in the freezer, using toaster ovens, microwaves and crockpots for cooking instead of the oven, putting on more clothing instead of automatically cranking up the heat etc.
*** EDIT:
Forgot to add that some power companies charge lower rates for OFF-peak usage. Our's used to but discontinued it. It was something like the hours after 7 pm and before 6 am or something. So if you ran your dishwasher or clothes dryer or took a hot bath in the range of those hours you would pay less than if you did it during peak hours. Check to see if your power company has that available.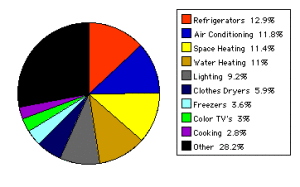 November 3, 2008
0

found this helpful
When you have to use your oven instead of the smaller appliances in your kitchen remember to turn it off 5 minutes or so before the end of your cooking time. This works whether electric or gas. Your oven stays hot for quite a while. It may vary with the appliance. If you have an electric stove you can do the same thing with the burners!
Make sure that the lint is cleaned out of the lint trap & hoses of your dryer.
We not only use a ceiling fan, but we have a pedestal fan that we use in the living room & move to the bedroom at bed time to cut the use of the air conditioner.
Frequently vacuum your refrigerator coils. Keep your freezer defrosted if it is not frost free. Check the gaskets around your refrigerator & freezer doors. If you can easily pull a dollar bill through you need to replace them.
Do not leave your vent fans on for prolonged periods, your cooled/heated air goes out the vent.
Use thick or thermal curtains. For our Outside walls we hang decorative (quilted) Wall Hangings or use wall mounted quilt racks since we rent & cannot add insulation. Check around doors & windows for air leaks & fix any you find.
November 4, 2008
0

found this helpful
Replace on/off wall switches with dimmer switches. These cost about $5 each (Home Depot, Lowes, Wal Mart, hardware stores) are simple to do (turn off breaker at the circuit box first). Not only will you save tons of money by doing this, you get the benefit of dimmed yellow light instead of always having bright white light. If only one switch controls a light, then these switches are very easy to install, only need a screwdriver!
Turn off breaker switch at box, unscrew cover plate on wall switch, remove old on/off switch, connect on wires on dimmer switch to those that are in the box that were attached to the on/off switch. Replace cover plate... That's it!
This will also allow all of your lights connected to dimmers to act as night lights. Instead of leaving bright lights on throughout the house in the evening, just a few are left on a very low setting in parts of the house not occupied.
They really work!
Jim in Jax
November 4, 2008
0

found this helpful
Insulate switch plates and outlets that are located on outside walls or above an unheated basement. A package of foam outlet insulation sheets cost less than $4 and does several outlets.