Terra cotta flowerpot and saucer brightly painted (red, pink, white, purple) and sprayed with acrylic sealer,. Decorated with foam hearts, scrapbooking stickers, pictures from magazines, then add some color paper shred and set a treat bag filled with goodies on top of that. We used mini candy bars, suckers, etc.
Approximate Time: 6-8 hours (we let ours dry overnight then finished
Supplies:
4 or 6 inch terra cotta flower pots
4-6 inch terra cotta saucer
acrylic paint, colors of your choice
foam hearts
acrylic sealer spray
scrapbooking stickers
pictures from magazines
construction paper(to shred)
treat bags
assorted candy for treat bags
ribbon to tie treat bags
Instructions:
Cover work area with newspaper and paint the flower pots and saucers. We used red, white, pink, purple and a dark pink. Allow to dry (we dried overnight).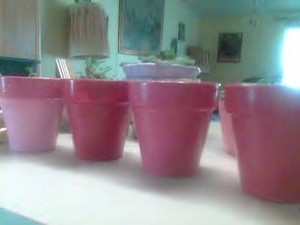 Spray with acrylic sealer and allow to dry. Decorate with foam hearts,stickers, pictures from magazines, whatever appeals to you for the holiday look.
Fill pot 1/3 full with shredded paper (I shredded construction paper) and then add treat bag. If you don't want to give goodies, you could fill with a plant or fill treat bag with potting soil and give a package of seeds. My son who is doing this in the picture is 3. I think this craft would be suitable for 5 and up.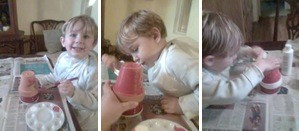 By Lisa from Hernando, MS