Zeak is 2 years old and is a Beagle/Terrier mix. We got him when he was 6 weeks old. Was driving into Hillsboro to do some shopping and passed a sign for free puppies. My son and I decided to check it out. I told my son that we would only take one if they had a male left. We already had 2 dogs at home. They happened to have one male left ... Zeak.
He likes to take walks in the snow, play with chew toys, get petted, petted, and petted!
Zeak is a very devoted, loving pet. He is the center of attention for my husband and I. Our "little boy" (ha ha). Everyone who sees him does the "ohhh, awww" thing and tells us how cute. We are sending Christmas cards this year with this photo and the inside of the card has "doggy etiquette" for the holidays.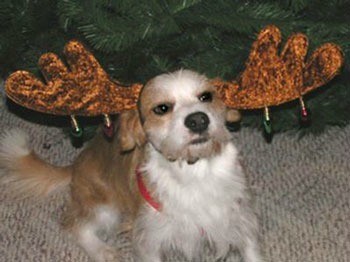 By hvnlyhills from Peebles, OH