I bought a printed, ruffled bedspread, which I suspect is about 40 years old, for $1 at the thrift shop. In good shape, it was a little faded, which made me not want to use it on the bed, but gave it a sort of "vintage" patina. I took it apart and made several matching items to perk up my bedroom. It was fun to see how far I could make that dollar stretch! I have enough fabric left to make a few accent pillows. It was twin-sized. Sometimes you can find two matching twins, which would really give you something to work with!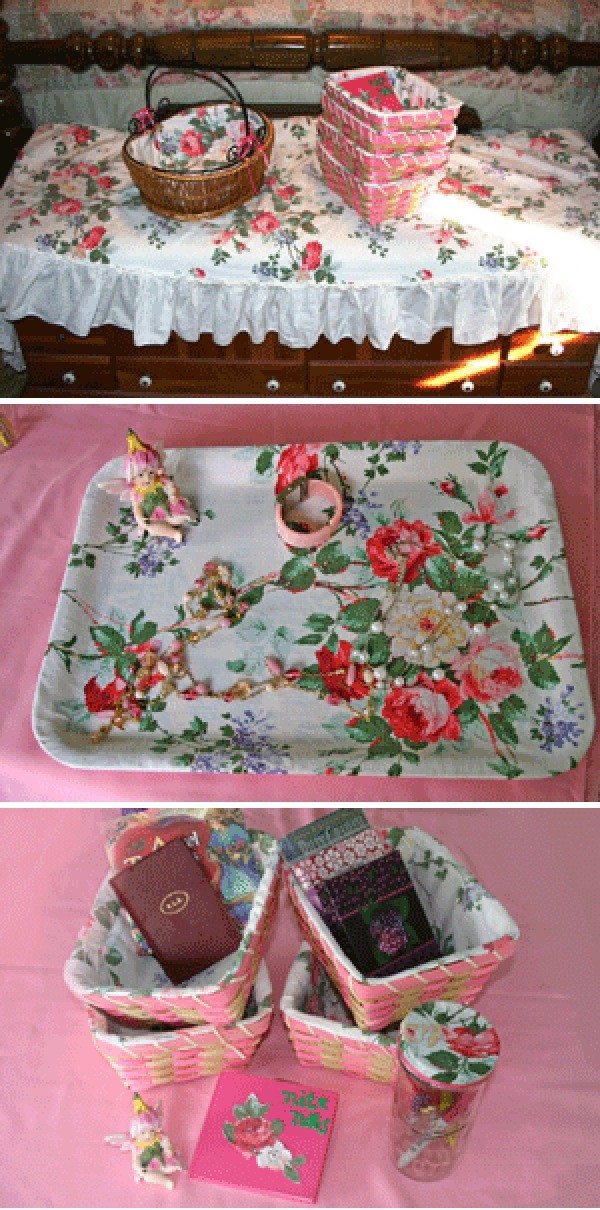 Approximate Time: Various
Supplies:
used bedspread (mine was a twin)
baskets of desired sizes
tray
journal
jar(s) with lid(s)
pillow forms (not shown)
hot glue
white glue
ribbon, trims
Instructions:
Lined Baskets:
Place fabric in basket, leaving an and extra inch to turn under. Trim.
Cut "darts" in corners (or every few inches if basket is round).
Hot glue fabric in place, starting with the bottom. Turn under raw edges to meet with top of basket.
Add ribbon bows if desired.
Jewelry Tray:
Use a tray made of porous material, such as wood. Cut fabric about an inch larger than tray.
Wet fabric and wring out.
With foam paint brush, paint glue on front of tray.
Attach fabric, removing bubbles. Add glue around edge on other side and press down raw edges.
After 48 hours, seal with varnish.
Pretty Jars:
With a vintage jar, I used the same method for covering the lid as I did for the tray and then trimmed the raw edge with ribbon.
Valance: I made this by removing one whole long side of the bedspread, keeping ruffle attached and adding a rod pocket at the top.
Hope Chest Cover: I used the other long side of the spread and just hemmed the raw edge.
'Nite Notes' Journal: Cut a motif from the fabric, attach with hot glue, add title with 3-D paint.
By Cindy from Waynesburg, PA