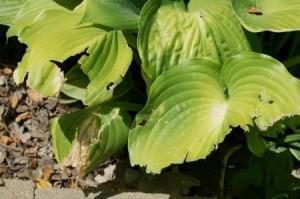 Question:
A deer has sheared of all my hosta leaves, leaving just the stalks. Will the leaves grow back this year?
Hardiness Zone: 5a
Thank you,
Jean from West Dundee, IL
Answer:
Jean,
As long as the deer left some stems, it's still early enough in the season that you'll probably see some leaves emerge in a few weeks. When they come back, they may not be as large as your originals were, but they will re-emerge next year as big as ever.
Many hosta leaves suffer damage from things like slugs and hail storms during the summer. There are two schools of thought as to what you should do if your hosta leaves become damaged.
Some sources suggest leaving whatever is left of the damaged leaves intact, not matter how unsightly, because they will help keep producing food for the hosta until its new leaves emerge.
Other sources suggest cutting damaged leaves back to the stems (the stems will also continue to help produce food) as a way to "shock" the hosta into replacing its leaves more quickly.
As long as the majority of the stem remains, both methods will work.
How fast or if the leaves return is more dependant on how healthy the plant was to begin with and environmental factors like the availability of nutrients and water.
You might also consider giving damaged plants a shot of alfalfa tea. Buy alfalfa pellets used for animal food at a local feed store. Dissolve 500mg to 600mg of pellets in a gallon of water for 48 hours (it will smell) and then pour it around your plants. The alfalfa contains triacontanol, which is a growth stimulant. You can use this tea on all of your plants every few weeks throughout the season. Hosta really seem to love it!
Ellen

June 18, 2006
0

found this helpful
You may get more leaves but why not spray all your plants with a solution of 1 egg in 4 litres of water. This protein smelling solution makes the deer avoid all plants sprayed with it.
Easy to make, cheap to make and you still have your plants.
By Gena (Guest Post)
June 20, 2006
0

found this helpful
I'm not sure if your leaves will grow back. However, I had the same problem with day lillies--and I sprayed them with milk. So far, it has worked. When I first heard this idea from our local garden column, I was skeptical. Now, my grandson and I "milk" our flowers and haven't had any problems.
Any milk will do. I use dated milk or look for markdown to buy. 1 spray lasts a long time.

June 20, 2006
0

found this helpful
Leaves probably won't come back this year, as long as the root system isn't dug up & chewed as well. Try human hair (cuttings from a hair salon) sprinkled around the plants. Human scent may deter them.