Hello, my name is Joyce.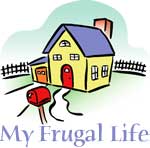 Every day, every shopping trip, in all my endeavors, I try my best to be frugal. Yet, I am not a cheapskate and I consider myself to be a very generous person. My most frugal accomplishment this year; I have already purchased all of my granddaughter's holiday and birthday presents for the entire year at half-off or more, and some of the items are handmade by Grandma. She is only 6 years old, my only Grandchild, and I am head-over-heels in LOVE with her! She loves her "Surprise Boxes" when they arrive, since she lives on the West Coast and I in Michigan. Very spoiled by me, for sure.
Most of the items that I buy for presents, my home, food, clothing, virtually everything, must be on sale, at the lowest price I can find, and of quality standards, too. I preview all local sales ads, go through my coupons, get them out to correlate with a sale, group them by store, map out my journey to save gas, and then shop 'til I drop! My shopping excursions take the whole day, but are very well worth it. I save so much money and I especially love "free" ads especially Rite-Aid's UpRewards and Walgreen's Programl. I get so many freebies, mostly toothpaste, makeup, healthcare items, and whatever is offered each week. I also shop the local "Dollar" Stores before I go anywhere else for healthcare items especially, since the savings are enormous. I wait for annual sales dates for certain purchases and now that Black Friday ads can be previewed earlier online with various Retailer's, I preview them and map out my trip as necessary to get the most favored items first. Also, bring the ads on the trips as well, since many Retailer's will match or beat Competitor's Ads and some offer an additional percentage off the purchase price as well.
When I cook, I like to make large batches of food from my price-saving purchases and freeze the extras, for quick meals on a dime. I package many meals in smaller, single-serving containers so my retired husband has a quick, handy, delicious, and nutritious meal at hand in case I am out shopping, working, visiting relatives and friends, or what-have-you.
"Yard-Sailing" is what I am looking forward to this year and I plan on having at least one of my own. Our season for yard sales begins on Memorial Day weekend this year, and many neighborhoods including mine will have community-wide sales to make the trip easier and saves on gas. I prefer to go to these advertised sales and I stop at any along the way to save on gas. I love a bargain, so I am totally frugal.
I also went to a local church and acquired a whole new wardrobe of clothing for free, and a lot of my "fat" clothes are being donated to the church's free clothing closet. I bring friends with me when I go, many people here are in dire need. While there, if I see something for a friend or family member that needs something or could use something, I throw it in my "free shopping bag" - everyone is grateful for my thinking of them. I tell everyone about where I got my new outfit from and now I want to start a free clothing closet at my church. I lost a lot of weight, from 200 to 150 lbs., and some of my clothes are brand-new with tags still on them (my fat clothes), so those items will go to a consignment shop to earn some extra money since I am currently unemployed outside of the home.
I do have my own sewing and cleaning businesses, but the need in my area isn't there. The economy in Michigan isn't good at all and jobs are scarce, the ones that are available are highly competitive with the highest unemployment rate in the Nation, so being frugal has been my lifelong endeavor since early adulthood. I have sewn a lot of my children's clothing, and a lot of their necessities and clothing did come from yard sales. I am proud of the fact that I got everything I needed for my twin boys 18 years ago from yard sales, except for a double stroller and their diaper bag, bottles, and pacifiers. I had enough items for them until they turned 3 years old, all bought before my 7th month of pregnancy when I had to be bed-ridden to keep from going into premature labor.
The twins are my youngest, and my two eldest children are married and have learned a thing or two about their frugal mom and apply money-saving endeavors of their own to their household. My mother could squeeze the juice out of a penny, and I learned a lot from her; she grew up during the Great Depression. This photo is of myself and my Granddaughter; her dress is one that her mother and I made from scratch without a pattern!
By Joyce from Lake, MI
Do you have a frugal story to share with the ThriftyFun community? Submit your essay here: http://www.thriftyfun.com/post_myfrugallife.ldml