By Carol (Guest Post)
May 21, 2007
0

found this helpful
My stepdaughter is graduating on June 1st from high school and since I do candy wrappers I made personalized candy bar wrappers for Hershey bars so she could give a little something to her friends. I am also making a few without names just in case
she forgot someone.
Candy bars you can get for .35 each at Walgreens, Walmart pack of 6 for $2.00 and wrappers I sell for .50 each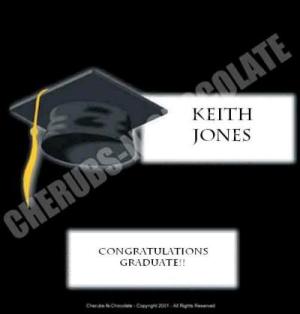 May 21, 2007
0

found this helpful
How about an address book, and all the classmates could write their addresses, e-mail addresses, etc... so they can keep in touch - whether some are off to college, different towns, etc....
May 23, 2007
0

found this helpful
a favorite picture of them and a cheap from from the dollar store
By Marlene (Guest Post)
May 23, 2007
0

found this helpful
Embroidering the name of the person getting the gift on a bath towel and matching wash cloth is very popular here - or you could embroider on a set of dorm sheets or light weight blanket. I have a home embroidery machine and my daugher in law has a commercial machine.
She does towels by the dozens for gifts. What could be handier when roommates linens get mixed up. If a machine embroiderer isn't handy, you can always do it yourself! A treasured, handy gift. Underwear, sleepwear, etc. could also be personalized.
By Mythi (Guest Post)
May 23, 2007
0

found this helpful
When my friends daughter graduated I didn't have a lot of money so I shopped around and got her a pencil/pen holder and bought pens and pencils to fill it. I also got one of those fun "big pencils" (the tourist kind) just to brighten it up and have some fun with it.
It didn't cost me much at all. The dollar store is a good place to look.
May 24, 2007
0

found this helpful
I have been thinking the same thing - & a photo would be great - but I also give books - I found a lovely presentation leather bound New Testament - and I have given heirloom jewelry pieces...It's nice when you can pass something down in the family on landmark occasions...
By Guest (Guest Post)
May 26, 2008
0

found this helpful
When I graduated I gave my friends, who were also graduating, postcards that ask for care packages at college. My mother didn't mind fufilling the requests and she is known for her cooking so my friends were happy to get their hands on her brownies, cookies and snacks while away.