Advice for Making Trellises?
For the past 2 years deer have eaten our entire garden! I love deer and don't mind sharing, but wish they would share too. This year I'd like to plant some stuff vertically. What are some good ideas for trellises, etc. that won't cost much? Thanks!
By sue from VA
Add your voice! Click below to answer. ThriftyFun is powered by your wisdom!
We have made frames of wood, with just 2 sides, thin pcs of 1x4 stripped down, and tied old fishing nets, volleyball nets, even filled the center in with a 'web' of yarn I got at a yard sale. This makes a tall panel--however tall you want it---with 2 wooden stake sides, and some type of net in the center. You then 'plant' the stakes in the ground, and let the plants climb up the net. We have also used this method for leftover pieces of chicken wire, and other light weight fencing materials.
WE use a couple light weight metal fence posts and pieces of Concrete rebar about 5 feet high and 8 or 10 feet long wired to the posts for our cucumbers and beans to climb on. We also took pieces of rebar and fashioned them into circles and plant our tomato plants inside these cages. We used pieces that are about 6 feet by 10 feet. and bend them so that the 6 feet is the height. Just train your tomatoes to star inside as the plant grows. It will grow to the top of your cage, and then some. Place them far apart so that you can walk between them to reach inside and pick the ripe tomatoes. I think that they even produce more tomatoes inside the cages. Picture is the tomato cages, but they don't show up really good because the tomato plants are small.
Harlean from Arkansas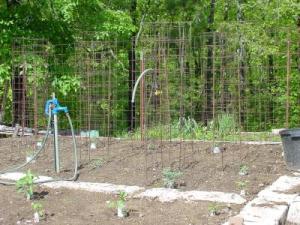 With your deer problem, do the wire cages shown above it is a section of wire rolled around and attached to make a circle and if you tie flappy things and zest soap someone said it will deter the deer, but the wire will keep everything inside your circle safe.
Add your voice! Click below to answer. ThriftyFun is powered by your wisdom!

Does anyone have any ideas on making homemade trellises for the veggies to climb up in my garden?
By Linda Delcamp from Brighton, MI

Answers
A good resource for ideas is www.motherearthnews.com/ . Look in their archives for trellises and other kinds of plant supports. They will give you instructions plus photos for many different kinds, from plain to fancy.
Put some posts in your garden - they can be store bought dowels, or bamboo, or old broom handles, just whatever you want to use. Tie string, twine, or rope horizontally between the posts. Then tie strings all along the horizontal piece to hang vertically down to the ground - you can stake them or put rocks on top to keep them straight.
Train your veggies to grow up these strings. Of course, this is not pretty, it is just practical and cheap.
I used 2 small iron rebars and sunk them in the ground about half way. I then used some electrical conduit cut to the height I wanted the trellis to be. Add a cross piece and 2 elbows and you have a frame from conduit that sure looks different.Just slip it over the rebar and you've got your frame. If I have netting I use it with zip ties. If not, twine from a stake in the ground to the top of the conduit and down again. Works fine for my cucumbers and pole beans.
Make a small fence for them to grow on. I took a couple of pieces of pipe and drove them into the ground about 6' apart and tied a old piece of mesh fence to them with plastic zip ties. You could use steel fence post and chain link fence also.
Read More

Answers
Advertisement
Categories
Pages
More
Categories
Published by ThriftyFun.
© 1997-2021 by Cumuli, Inc. All Rights Reserved.
https://www.thriftyfun.com/tf53313470.tip.html