December 5, 2010
0

found this helpful
Hi, I honestly think, from your description that you are doing all you can. I also understand that it is persistent vomiting that usually causes the biggest danger. It causes dehydration and can put a strain on the dog's heart. But it seems you have these issues under control so although the poor pup will be feeling very sorry for it's self right now in a few days it will probably pick up very quickly. My dog survived when all I had was a box of medicinal glucose, boiled water and sleep deprivation, and she lived to 14! But if you get very worried go back to the vet.
December 5, 2010
0

found this helpful
If she starts feeling like eating, give her nothing but boiled chicken and water until she is well. Also take her back to the vet and ask for pain meds. Look up the dosage for benadryl for your dog by weight. It will probably sedate her.
December 6, 2010
0

found this helpful
Kathy, I just read your post and it sounded just like a situation that my family was in several years ago. Our new pup vomited on the car ride home from the breeder, (we thought she was just car sick), turns out that was her parvo vaccine that had just been given to her. (Breeder offered another pup, but really, we had already fallen in love with her.)
So far the treatment your dog is receiving is very similar to what ours was except the vet kept her hosp instead of at home. However, the IV fluids and meds were the reason for that, I think. It was one of the most difficult things I've ever gone through as a pet owner so my heart goes out to you. Our vet had advised to try to feed her anything to get something in her. Ideally that would be boiled chicken and/or rice, but try anything, even baby food on your finger into Puppie's mouth, a little at a time as you don't want to get too much in there at one time if she isn't good with swallowing right now.
Also I remember that at some point it was just a waiting period, that's the time for just spending time lying with her and loving and praying. Mine almost died on my birthday, and at some point soon there after she just started to slowly feel a little better and progressed fwd from there. I think we stuck with the chicken and rice for some time after due to being gentle on tummy and just being so completely empty. The disease is extremely contagious and I hope there are no other dogs that have contacted with her or your yard. Yes, your yard. We had to bleach the entire yard as the virus lives in the grass for some time. Put the bleach in one of those garden sprayer things, and go to town. A dead lawn is worth never having to go through this again for you or any one else. I'll be praying for you and wish you and your puppy the best outcome possible. There is never a good time for a person or animal to be this sick, and if you have young kids it is especially hard. You will have to be so very strong. And, yes, you are doing everything you possibly can.
December 9, 2010
0

found this helpful
My cats are getting ill this way. I thought only dogs could get parvo virus. I had to give two of my cats to the vet yesterday for this condition because the cats could not keep their medicines in their stomachs and their fevers were persisting around 105.6 even though one of them had two injections of antibiotic. Did your pup make it? If the medicine you give them is strong enough, the dosings would be better given every 8 hours.
I give my cats medicines here every 6 - 8 hours depending on how ill they are. Some of my cats made it at home and are up and running again, thinner, but wiser! Each cat were clearly critically ill for several days during this awful illness and although they seemed to feel better here and there and even were able to eat a little, they stayed in bed for 5 - 7 days before returning to regular activity level. I give them any of 3 antibiotics, reglan or tagamet (cimetidine) plus an electrolyte liquid mixed with a little honey and bottled water. Vitamins are also necessary. The lucky cats get to stay home. I had several successes, The others the vet got, and then they moved to new homes.
The photo I have is of my young tomcat, Cappucino, who had to go into intensive care for 6 days. He now lives with someone I approve of with his brother Frenchy with the same critical illness. They are happy today and enjoying a Christmas with a little tree of their own with cat toys for decorations.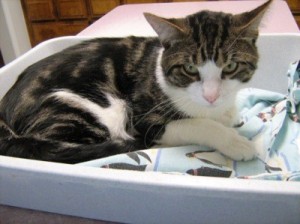 January 13, 2011
0

found this helpful
I treated mine with grapefruit seed extract liquid, colloidal silver, pepto bismol, home-made pedialyte using Morton's lite salt. Colloidal silver given orally and anally. Key was the GSE (grapefruit seed extract). A very thick clear saliva started coming from her mouth afterward - so much so that I wondered if perhaps it was rabies rather than parvo. It had to be cleaned off with towels. I came visiting because she is still so droopy and weak.
The only thing she will eat is fish derived cat food and those bacon beggin treats. I have read elsewhere in the past that giving salt to dog is very bad idea (why I chose Morton lite) but obviously she is craving salty things to replenish so not sure what to do from here. Have ceased all medication because the key ingredient here, the GSE can strip the stomach I think (I have used it for my own post-op infection due to antibiotic allergy.) So once she started eating and drinking on her own I stopped it.
January 25, 2011
0

found this helpful
We had an Amer. Bully pup that got Parvo and died within a week and a half. Right before he died, we had a gorgeous choc. lab pup show up at our house. Not thinking about her catching it, we took her in. Sure enough, she went from bouncing around to bed ridden within a couple of days. I am no vet or expert by a long shot, but found a wonderful way to treat and cure her of Parvo. I used Colloidal Silver and Fish Mox(which is Amoxicillin). I am now on my second stray that has shown up here, a much bigger dog, bulldog mix, and he went from bed ridden, to running and being a normal, healthy dog just as Aubrie did. We took photos of Aubrie and Auburn as they went through this nasty virus and charted their progress. Looking at them today, you would never know they were ever deathly sick, just a couple months ago..
October 13, 2011
0

found this helpful
I had a puppy die from parvo and 2 days later her little brother got sick. With him I was capable of getting him to the emergency vet hospital in enough time. This was two months ago. My question is I have there other brother here to since I've had the first dogs (3 in total), and he hasn't gotten sick yet.
I have taken him to the vet for a snapp test and nothing. He has no symptoms whatsoever. He has never had symptoms. I am afraid I will have to eventually hospitalize him. He even had played with his brother they sleep together and everything. I'm so confused. I was told by the vets assistant that he would definitely get sick. Please help.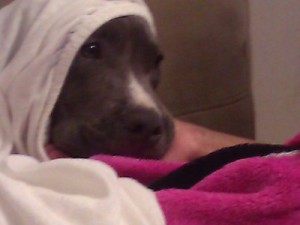 January 29, 2012
0

found this helpful
I have a 14 week old boxer puppy that has parvo. I've took him to the vet on Friday and the vet gave us some pills for him. And told me to give him pepto and pedialyte. Every 2-3 hrs. But I was wondering is it normal that he don't poop. And he started drinking water on his own. Is that a good sign. Do I
Force feed him or let him try on his own. Do I stop the pedialyte. Thank you Susie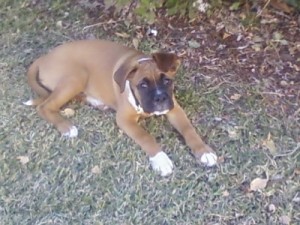 May 25, 2013
0

found this helpful
Activated charcoal helped alot with my parvo puppies. They vomited it up and I gave them a little more which stayed down longer. I used an enema to give charcoal to one of them. I also used enemas to give pepcid and electrolytes because they were vomiting so much. I had been to vet so I also had an i.v. bag and used it to give fluid under the skin. Trying to give them meds and fluids by mouth just adds to their misery and doesn't help at all. I've treated 12 dogs with parvo over the years and trying to give them everything by mouth never worked. Also, when they do start to eat again, pureed beef liver is the best.
May 28, 2013
0

found this helpful
After not eating for three days, puppies can suffer low protein and blood sugar. Their head may start shaking. I begin force feeding pureed liver at this point. Pureed liver is good anytime if they can keep it down. Also pepto has aspirin which will cause more bleeding. Motrin, an NSAID can cause bleeding too.