By guest (Guest Post)
October 7, 2008
0

found this helpful
Here are a few of my favorites:
tuna noodle / chicken noodle casserole
1 can of cream of chicken or cream of broccoli or cream of mushroom soup
1 can of water or chicken broth
1 can of tuna or 1 cup of chicken
1 to 2 cups of chopped diced veggies (broccoli, carrots, etc)
8 oz pasta
cheese to top if desired
breadcrumbs to top if desired
Just mix it up and cook!
October 7, 2008
0

found this helpful
Besides casserole dishes as food stretchers and easy to make, so are chili, homemade vegetable soup, goulash, lasagna and homemade potato soup. You could also use rice in ground meat to stretch farther.
If you like Bangers and Mash, you can use sliced sausage and onion fried in a skillet and put over hot mashed potatoes and add brown gravy to the top. Add a slice of bread and butter or biscuit and you've got a tasty meal with leftovers easy to freeze.
Cooking ham in dried beans and having cornbread and onions; now that's tasty, nutritional and inexpensive as you can get and freezes well.
I even enjoy pancakes and an egg for supper at times with bacon and biscuits. Pancakes can be made in advance and placed in a freezer bag until ready to use. Spread a little margarine over it and place a damp papertowel over the pancake before warming in the microwave to keep it moist.
Vegetable soup is ez to make and good for you. Take a can of this and a can of that (drained) and add to a large pot along with a large can of tomato juice or V8 juice and 2-3 stalks cut up celery, 1 lg onion and raw potatoes cut into small chunks enough to fill one of the vegetable cans (corn, beans, peas, carrots whatever is on hand or that you like). Let cook with lid on pan until potatoes are done. You can add cooked and drained ground beef or cooked cubed meat.
Many recipes can be found to meet your purposes by doing a google search and are free and printable.
By guest (Guest Post)
October 8, 2008
0

found this helpful
About.com has a great selection of slow cooker recipes. Just type in slow cooker or crock pot recipes and a long list will come up. We have been there done that several times in 36 years. Good luck to you!
By guest (Guest Post)
October 8, 2008
0

found this helpful
Yahoo groups has a group called casseroles and crock pots. They have some really good recipes. You might want to give it a try.
October 8, 2008
0

found this helpful
I just saw this one in the recent Family Circle. You could use turkey burger, too.
MEAL IN ONE MEATLOAF
Heat oven to 375
Combine in large bowl, 1.5 lbs ground beef, 1 c. saltine crumbs, 1/2 of a whole onion peeled and diced, 2/3 c. of condensed tomato soup, keeping the rest for topping, 1 egg and 1/4 t. each salt and pepper.
Lightly grease 9by9 baking pan. Layer 6 medium peeled and sliced to 1/8" potatoes, the rest of the onion, and one drained can of corn.
(If you prefer another veggie like peas or beans, use that instead).
Top off with meat mix and the rest of the soup. Cover with foil and bake for 1 hour.
SANDI'S TURKEY DINNER IN A BOWL
I have submitted this before, but it's one of my favorites.
In a 4 qt. casserole, make a layer of boxed dressing mix already made. Then, add a layer of turkey breast, (chicken leftovers are great, too). Then, some shreadded cheese, a can of drained veggie, and top it off with one package of instant spuds, or left over real one. Make sure the spuds are soft enough to spread to the sides. I cook it at 350. for about 30 minutes, and serve it with turkey or chicken gravy and cranberry jelled sauce. That and a salad is like Thanksgiving day all over again!
Some other great ideas.
In a casserole, mix either leftover fried potatoes, or nuked and chopped spuds, some bacon or sausage or ham, some cheese, some bread pieces chunked up, and finally some mixed up eggs. This essentially binds everything, and when you mix it all together and bake it for 30 minutes on 350...you have breakfast in a bowl! (You can make this without meat, too).
Redbeans and rice with chicken and veggies added freezes perfect.
Make up some low cost soups and freeze them.
Good luck on your upcoming layoff. It's a trying time for all of us these days. God bless!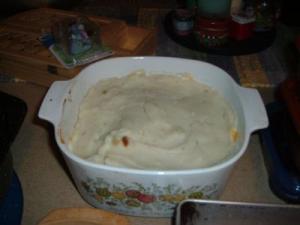 October 9, 2008
0

found this helpful
You guys are SUPER! Thanks so much!!! I can't wait to try these. If you've got more, KEEP 'EM COMING! Meantime, I'm going over to the 2 websites recommended and schmooz over there, too! Thanks a million zillion times!
-Kippy
October 10, 2008
0

found this helpful
Jam Chicken
1 small jar of your favorite jam (not jelly)
2 large chicken breasts or 4 thighs no bones or skin
2 T soy sauce
Mix together. Place in Crockpot and slow cook for 4 hours on high or 6 hours on low. Serve over rice
Salsa Chicken
1 jar favorite salsa
1 can beans (black, kidney, garbanzo, cannellini)
4 pieces chicken no bones or skin
Cook on low for 6 hours, or high for 4 hours. Serve over rice.
Both of these will serve 4 people. They are easily doubled too. Hubby loves Jam Chicken when I use Apricot Jam and then throw in some shredded carrots and snow peas in the last hour of cooking.
October 13, 2008
0

found this helpful
I like to buy round steak when it is on sale or buy one get one free and then cut it into smaller pieces and put it in the crock pot. Add a chopped onion and a can of chopped tomatoes and then shake on some Goya Adobo seasoning and let it cook all day. It's very good served over rice.