I got a puppy that is a Pit bull mix about a month ago. The dad was full Pit, the mom was about 1/2 Pit and the rest mutt. She is a hyper little dog and is about 3 1/2-4 months old. She is fairly well behaved and doesn't really chew on furniture too much, but terrorizes the cats.

She has a yard she can run around in all day while I am at work, which is usually about 6 hrs a day, and she is out there for probably 3-4 hrs total on my days off. I try and walk her every other day, sometimes it is only 2-3 times a week though. When we do walk, we walk a mile to a mile and a half.

I have not owned a dog in close to 6 yrs, not since our 3 legged Golden Retriever died, and when I did, we lived on an acre of land so there was no need to walk the dog. But now I'm in the city and don't have that luxury. Plus we usually had multiple dogs so they could exercise with each other all day. But at least I have a nice fenced yard.

So my question is, is her being outside with a yard this many hours a day and me walking her a couple of times a week enough exercise for her? Thanks for your opinions.

Is This Enough Exercise? from Visalia, CA
Add your voice! Click below to answer. ThriftyFun is powered by your wisdom!
By Sue (Guest Post)
February 6, 2008
0

found this helpful
Your puppy needs as much exercise and walks as you can give it. Shut outside for 6 hours a day does not constitute exercise! Total boredom yes, but not exercise. U say he terrorizes the cats. With GENTLE correction (not hitting) cats and dogs can live in harmony. Like us they CAN learn to respect each other and actually LIKE each other eventually. It's up to you. You can train him or let him become a cat hater. Good luck. Remember there are NO BAD DOGS only bad owners. Best wishes Sue x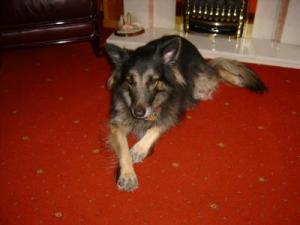 February 6, 2008
0

found this helpful
It sounds like she could use a little more exercise. She's going to be a big girl and has alot of energy to expend. Our dog is a year and also a terrier mix, and he runs 6-8 miles 5 times a week -- and he's full grown at 30 lbs. Your girl is probably going to be at least 50 lbs when she's matured.
I'm thinking your dog may need more socialization, more people contact. Six hours alone is a long time, especially for a puppy. Do you have a neighbor or a friend who can come over and spend some time with her for even a short time, while you are at work? Throw a ball, play with her, etc.?
By Pony Lover (Guest Post)
February 6, 2008
0

found this helpful
I agree pits are the best dogs in the world. I would exercise it for at least an hour a day. If you don't have the time you could get a dog walker.
By Pony Lover (Guest Post)
February 6, 2008
0

found this helpful
I agree dogs [big dogs mainly] should get at least an hour. I had a cockerpoo that was mean to the cat. We did some training. Make sure you keep a leash on it, and when it misbehaves take the leash and pull up, so that don't choke it though!
Keep holding the leash up until the dog sits then say good boy/girl and then get closer to the cat Example : keep dog on leash and then sit down about 10 - 15 feet away from the cat make it sit and down and you sit on a chair while you sit reading a book/watching tv ect.
By Penny Custar (Guest Post)
February 7, 2008
0

found this helpful
Since you don't know how much exercise the puppy is really getting in the yard..(it could be lying around all day) Is it getting destructive, or barking excessivly which are signs of it being bored...on the days you aren't walking are you playing with it for exercise? chasing a ball (it chasing not you).. even basic obedience training is exercise....
February 10, 2008
0

found this helpful
Have you considered another dog for him to play with? You can probably find one in a rescue that needs a good home. That is a long time for him to be out alone.
As far as the cats go. We use a little training tool that has never failed. All our pets are rescued or strays, so we have to help them get along. We lay the dog down,& place the cat on top of the dog, or right next to them, if they are not getting along. We tell them "easy, kitties the boss" and pet the dog while the cat "walks all over him/her". Worked for the pit mix and the lab mix and the new street cat (4 months-ish) that they were always chasing. Only takes a couple of times. It has worked with all 6 cats and 5 dogs. Our oldest, a boxer/pit mix just lays down when a new kitty arrives. He knows the drill, and he was labeled a cat killer by the shelter he came from. They are all indoor pets, no problems.
By D* (Guest Post)
February 18, 2008
0

found this helpful
NO your dog isn't getting enough exercise. Sitting them alone in a yard is NOT exercising them or properly socializing them.
In all honesty; it probably just annoys your neighbors by disturbing their peace and quiet. You may tune out your dog but they WON'T. Most dogs don't "just run away". Neighbors don't want the stress of complaining to a negligent pet owner. Leaving your bored, unexercised dog out for hours at a time exposes them to poisoning and theft or worse.
To keep a dog healthy, happy and socialized, you need to run with them. You need to get out and throw a frisbee or ball around with them or they aren't having a very good quality of life.
Dogs need at LEAST 45 mins+ of brisk walking/running every day. This should be in the morning so the dog looks forward to a nap when you leave for work. They'll need the same at night after their main meal too. If this is too much exercise for you; try using roller blades or a bicycle and letting the dog run.
The long walks you need to be doing will also help with socialization as long as you are the leader and ensure that your dog follows your instructions. Another dog can be a good idea but you really should have your dog's undesired behaviors under control first or you could end up with two cat haters and some real behavior problems on your hands.
If you haven't already; try some Kong toys and hide good treats inside for the dog. It's one of the few things that will occupy some dogs when they are left alone.
Add your voice! Click below to answer. ThriftyFun is powered by your wisdom!
I have a Pit Bull, female about 8 months old. I'm sorry to say this, a friend of mine bought her at a pet store and as soon as she turned 3 months it was obvious that there were serious problems with the poor little one. My friend couldn't afford to keep her so I've adopted her.
She has serious allergies, so far we have identified allergies to all meats, chicken, cow, lamb, all of them. We now have her on a special seafood. She is also allergic to any milk products and wheat. Her allergies are so severe that we once had to take her to the vet because she broke out in huge hives and had trouble breathing. She is small for a Pit Bull, but the vet guaranteed that it is just the way she is.
So my questions are, can I give her vegetables as treats and which ones? Are there any that could be dangerous? Also she is a bit of a lazy dog. I take her for walks everyday and sometimes she will happily go, others not, how many times should I walk and how long? Should I force her to walk when she makes it hard? (By hard I mean she lies down and only with a treat will go.) The last question is she has dreams and will whimper and bark in her sleep, until I pick her up to my bed in which she sleeps with no problems. Do dogs really have bad dreams? Thank you all.
By Irene
Answers
February 1, 2012
0

found this helpful
To me it seems that she probably isn't allergic to meat, but more what may be used to process it. Although I understand the fear of trying to experiment more. I am just wondering if it's the canned varieties or if it was the real thing you tried that is all. I give my dog carrots and apples as treats, without the seeds from the apples.
My dog also likes radishes. I hear sweet potato is good too. As for the walking, I first had to drag my dog, eventually he started walking. I think it's because they have a leash on and don't like being controlled. If you have the ability to test this out do so otherwise, don't take the risk of walking unleashed.
February 1, 2012
0

found this helpful
Bet this started at the first vaccine. Her auto immune system is a mess. Vaccines contain mercury, formaldehyde, aluminum, anti freeze and other immune busting poisons. Some thuja will help but this baby needs other homeopathics as well. A homeopath can help. Sooner the better.
Her diet should have no corn wheat or soy. No dog should have any of those allergens. No grocery store aisle foods. Today they even contain euthanized animals from the pounds (along with the euthanol that does not cook out). Some raw is very necessary in her diet. Fruits and veggies. Nn, no, NO grapes or raisins. Sweet potato is good. Oatmeal. I often cook washed lentils with organic brown rice (Costco) ground turkey a little coconut oil, flax oil, fish oil.
Nzymes would help tremendously. Nzymes.com. Google Nzymes as their recommendations are absolutely true. No i don't sell them. It won't happen overnight but skin, digestion and overall health will improve with their product. So we have; no vaccines, clean food, Nzymes and a homeopath. Your dogs doctor can give you a waiver on the rabies vaccine as it probably made your dog sick in the first place. Ever see how parvo vaccine often gives a dog parvo?
I have taken in messed up dogs and other animals all of my life. Many years study on vaccine dangers after my 3 month old step grandson died a few days after a vaccine. I, myself got MS within a week after a vaccine. Lots of study. I urge all to observe what happens around them, including their pets. Notice ADD ADHD in the newly vaccinated children? Juvie arthritis? Lupus? Cancers? Severe disassociation, detachment?
February 1, 2012
0

found this helpful
I'll address the dream question section as there are two great answers on the other parts of your post. I think dogs (and cats) dream.
I took a puppy for a vet check after hearing him whimper and bark in his sleep, thinking he might have injured himself and in the relaxed state of sleep, was saying 'ouchie!' in dog-speak.
The vet checked him over completely, gave him a clean bill of health and gave me some advice: if a pet whimpers, moves paws, barks, purrs, growls, whatever, during sleep, wake him or her gently then try to get them moving around. Watch how they move to see if they are limping or whimpering, etc.
If they seem fine, the vet said they were most likely dreaming about the 'one that got away' or a memory of something that happened long ago.
LOL, I figure if a vet thinks pets dream, I can think so too:)
Do remember though, that pain is expressed differently by everyone, animals included (cats sometimes purr when they are in pain, for example), and our furbabies are awfully good at hiding pain as well. They express pain in so many ways, you'll just have to learn your baby's way of doing so over the many happy years you'll have together.
February 1, 2012
0

found this helpful
Maybe he is having some kind of pain when you try to walk him and he doesn't want to go. I, too, would try a homeopathic vet who might be able to suggest some organic recipes that you could use for him.
Read More

Answers