March 13, 2009
0

found this helpful
Could you give it trial when you're not committed to finishing the whole thing? Like around and around the block for 6 miles and seeing how he does. Then if he begins to tire out you're not so far from home. I suspect it'll be a bit much for a pup but he should be able to build up to it.
March 14, 2009
0

found this helpful
I live in Arkansas, where it's hot and humid too. I used to take my dog with me when I went for bike rides. She loved to run beside me and always stayed close. She got heatstroke one day in the summer, went under a tree and could not get up. I raced home to get her with our truck and immediately placed her in a tub of cool water. She lived, but the turnout could have been much worse. Soon we will be in the summer heat. Please be careful.
March 14, 2009
0

found this helpful
Boxers have heaps of energy and need exercise. If you walk 6 miles he will probably run 12 voluntarily. He will also be better company - more settled - at home if he has plenty of exercise.
However, you should be careful not to overdo things while his bones are still growing. Exercise on grass if you can avoid pavements. When dogs move at a swinging trot their bones and joints receive less impact than when they canter. Watch his behaviour while you walk. If he shows signs of slowing down it's time to stop. You sound like you must be fit and strong so why not just carry him when he needs a rest?
If you are both on foot you can use your comfort as a guide to his. If you need to re-hydrate so does he. Once he is mature he will easily out-perform you. If you give yourself an advantage by cycling you will have to watch him carefully.
March 14, 2009
0

found this helpful
Hello. We have a boxer, who will be 5 in June. We've had him since he was 8 weeks, purchased from a wonderful and reputable breeder. My first boxer, hubby had them as a child. Boxer's have a lot of energy. I would, as previously suggested, go for short walks, first, to acclimate the pup. Check the pads on his/her feet, to make sure they aren't red...puppies can have tender pads. After our pup was about 1, we took him on 10 mile hikes....through shade, however. We live in the ATL, GA area, so you will definitely need to watch for the heat. We walk our dog for 1 to 1 1/2 hours currently, but he can't do that if the temps are above 80 or the humidity is high. The smushed muzzles of dogs such as boxer, bulldogs, pugs make it harder for them to cool off. The pup can do it, just go slowly and good luck!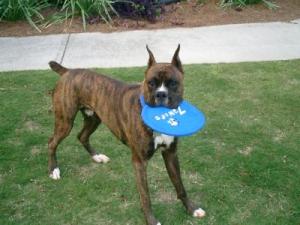 March 14, 2009
0

found this helpful
The exercise if exactly what your dog needs.
You should bring water for yourself and the dog particularly in hot weather.
Also, you warm up and so should the dog. Start out a little slower for a few minutes to allow the dog to warm up since they don't start out stretching as you do.
March 19, 2009
0

found this helpful
Since he is so young a tender pup, start with small walks before going to hikes and you can see what he can do
and do not let him over do it. You might be ready to carry him if he poops out. Enjoy your healthy marches and having
a good bud with you.