August 19, 2008
0

found this helpful
I've seen them called "Naughty Dolls" before and here is a link I found for them...
ourhouse.ninemsn.com.au/.../160.asp
hope this is what you are looking for!
August 19, 2008
1

found this helpful
The ones I've seen for sale at Christmas fairs were called "TIME OUT DOLLS"... as in they are standing in the corner for a "time out" because they were "bad" little dolls...
By Sharon (Guest Post)
August 20, 2008
0

found this helpful
I have one but it's a puppy dressed up, the ears and arms are the tube socks and the head I think. I made one bought this stretch stuff for the body that was a tube.
By Cathy (Guest Post)
August 20, 2008
0

found this helpful
I have seen these many times at classic/antique car shows.People display them leaning up against their classic cars. I believe they were called Time Out Dolls. They are adorable, and wear actual toddler size cloting and shoes!
By Judy (Guest Post)
August 20, 2008
0

found this helpful
I've heard them called Pouty Dolls.
By Wanda/LA (Guest Post)
August 20, 2008
0

found this helpful
Pouting Dolls. You might find instructions if you google for it.
August 20, 2008
0

found this helpful
Hi!
I was curious about you request so "googled" some. Here are two posting on another site about how to make the dolls:
"What I do:. I use light colored childrens footed pajamas size two preferably because they are the cutest. I have used one's and three's. Stuff them, get the legs as stiff as you can without being too fat. Play with this step. I don't stuff the body and arms too much because then they don't look too fat. I use a knee high (Wal-Mart .50 cents in plastic container) for the head. Stuff it and then sew it onto the neck of the pj's. Dress the doll in clothes to fit and shoes and socks to fit. I find a lot at garage sales, family out grown clothes and thrift stores. If it is a girl in a dress I put kids nylons in a color of choice. If I use white sometimes I need two pair to cover the color of the pj's. If the pj's are pink they sometimes work with one pair. I buy hair at Wal-Mart. I use the one piece hair and glue it to a hat in the back so it is hanging down looking natural. On the boys and some girls use the caps with bills and put the hair on the bill so the hat is turned backwards on the doll. Tack the hands to the front of the face and spot glue the hat on. You can add things you want.
Like I add hay to overalls pockets or a car or worms from the fishing dept, a little stuffed animal or doll in the arms or something."
Second post at ths.gardenweb.com/.../msg1010304118500.html
"Hi. Stumbled on your forum looking for info for a friend who crochets and saw the post asking for instructions on these dolls. I'm a regular on Garden Junk and one of the lady's there posted easy directions and a cute photo of one of her's that she had out in her garden. Here it is.
Hope it helps.
Karen
this is how i do it....
I take a piece of styrofoam (just a piece that I got when I bought something) ,make it fit the shoes.Then duct tape that to a wooden dowels. I loosely duct tape the dowels at the top too. Then I take a pair of sleepers,put the taped styrofoam inside,then start to stuff with plastic bags.Then I put the sleepers in the shoes and hot glue them.then stuff some more!Keep stuffing the body .Add the clothes.Then when I figure out how to do a head (still haven't got that down pat yet). The last one I found a ball at dollar store and hot glued it all together.Hot glued the sleeper to the ball then the shirt. I hot glued the hair to the hat . Then wrapped one arm around the pet and hot glued the hand to the face. Kind of hard to explain but you have to play with them."
Hope this helps,
Harriet
By Coll (Guest Post)
August 21, 2008
0

found this helpful
I too have seen them propped up against antique cars at the shows. I had one that I broke the leg in half on, so my husband and I fashioned her into a ghost for Halloween. Everyone wants me to make them one but I tell them it's my secret how she was made.
By soochatty (Guest Post)
August 22, 2008
1

found this helpful
I have always heard these called Time-out dolls.
September 12, 2008
1

found this helpful
I have Peek A Boo infants!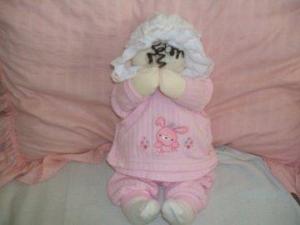 May 20, 2016
0

found this helpful
I have made a few of these dolls. They most commonly referred to as hide and seek dolls.
But you can stand them up in a corner and call them time out dolls.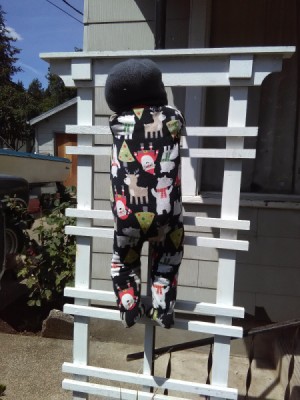 February 8, 2017
0

found this helpful
I have a pair and would love to send you a picture yet it is not giving me the option to send you one. Mine are made of old cloth pillows. The boy is dress as if he is going fishing and the girl is dress like she is from the time of " the little prire " show.
March 18, 2019
0

found this helpful
Also called "time out dolls". I added a few links. Hope this helps. I have one named "Lucy". She's now ready for Easter. Kinda fun dressing her up for occasions.
www.pinterest.com/.../?lp=true
www.ehow.com/how_5077078_make-time-out-dolls.html