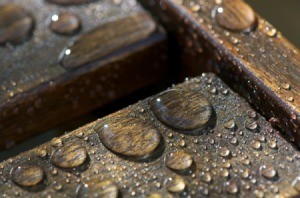 I used Copper Green wood preservative on my deck and my daughter can't stand the smell. She complains bitterly. Is there some way to get rid of the smell?
By keller from Spokane, WA
Answers

December 18, 2010
0

found this helpful
Fill a wash bucket with hot water and add 20 drops of tea tree oil to it. wash your deck with this. Rinse thoroughly. The tea tree oil has a strong smell of its own but once the deck is rinsed and dried and airs out for awhile it should be much improved.

December 20, 2010
0

found this helpful
Good luck with getting rid of the smell. While your deck is, technically, outdoors, it still will stink for a long time, (that's why the products are labeled "for exterior use only." The naphthene molecule is what pulls the copper into the wood and releases it slowly, and that is what stinks. If it is still really bad in the spring, you might try sanding down the deck and re-sealing it, or power-washing it. At least in the winter, you won't be outside quite as much, unless you have a jacuzzi out there.

August 18, 2012
0

found this helpful
Copper Napthenate/Copper Green is labeled for exterior use only. There is some Vanderbilt University research that indicate that it has carcinogenic properties and others that indicate possible DNA damage to cattle.
This material is considered a pesticide. It has been illegal to apply inside a building footprint (even crawlspaces) since circa 2002. See the EPA for info. I have heard (not verified) that cleaning the surface with a paint thinner or acetone and then sealing with shellac, etc should help.
Sanding it seems like a really bad idea if any of the research is right.
Hi - have you effectively tried this with Copper-Green? I wonder if Borax could help - they nuetralizes many environmental toxins.
Answer

this Question
I painted the basement wall using Copper Green. I don't know if it is toxic, but the smell is awful. I have a little baby who is only 9 months. How can I get rid of the smell? Please help me.
By Jade
Answers

May 13, 2012
0

found this helpful
Use newspapers, layer open newspapers solid on floor. Within 24 -48 hours the smell will be gone. Best part it's non-toxic. Good Luck

July 19, 2018
0

found this helpful
did the odor go away by using newspapers on the floor, i have the same problem, problem is under my outside deck, they sprayed the wood beams with copper green, now i cant go outside or put my air conditioner on, please let me know thank you susan

October 24, 2018
0

found this helpful
Copper green wood preservative and termite spray left our downstairs uninhabitable. Doors windows fans open for days and odor still lingers.
Front of container should read in very large letters TOXIC ODOR. Very angry!

June 3, 2019
0

found this helpful
This is absolutely ridiculous, and bordering on voodoo. Magic newspapers will do nothing for naphthenate odor.

August 13, 2020
0

found this helpful
Seeing "Creoshield" listed as a way to block the odor.
Otherwise, remove the wood and other materials that have the Copper Green applied.
Hi susan - how did this resolve. My landlord just painted this on the deck outside all of my doors. The smell is hideous.
Hi - Did this smell ever resolve? It was just used to treat the deck at my house! I'm so bummed.
Answer

this Question
I put some Copper Green wood preservative inside my mobile home wall. I didn't realize it was for outside use only. Even with wall panel on it still smells. Will the smell ever go away? If not is there any outfit that deals with that sort of problem?
By RA from Castro Valley, CA
Answers
September 12, 2021
0

found this helpful
I treated the under part of my trailer 5 years ago and the smell still comes up, especially wen its warm.. This stuff makes me sick and should be illegal,, inside or out..
Answer

this Question