This is Jade's Mending jar. Jade is my niece who has just left school, aged 16 and is now commuting to college everyday. She is studying to become a veterinary surgeon.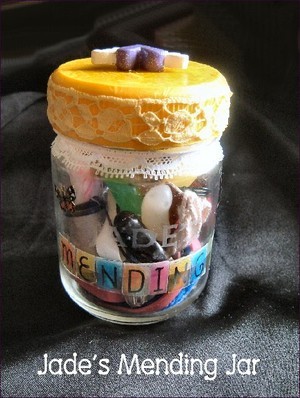 I keep all my glass jars to recycle or make crafts out of and decided that Jade might need some things to help her, seeing as she is a long way from home. I have called it her Mending Jar.
Directions:
Firstly I got a small jar - in this case a Vegemite jar. Took off the label and washed and dried it thoroughly. (I cut off the yellow plastic ring too).

Next I inscribed Jade's name on the front with my engraver tool, but you could as easily use stickers.
I then used stickers spelling out 'Mending Jar'. A thin strip of lacy material was glued (PVA) around the rim.
For the lid I used the glue with thin yellow tissue paper and covered the top and sides - enough to cover the words 'Vegemite'. A strip of lace went round the rim. When this was dry (I left overnight) I super-glued a decorative wooden heart I had in my craft drawer, but you could cut out a person's name or stick just about anything there instead.
Inside the lid I used 3 double-sided sticky pads and layered them on top of then pushed and secured 3 drawing pins to it.
Then I went off hunting around the house for things that Jade might need to mend things when she was away from home.
Contents of jar: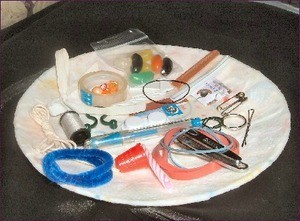 In Jade's case I found:
elastic bands
some coins for the phone wrapped in some pretty paper
a pipe cleaner
2 birthday candles
a few matches with some strike (I cut from a match box)
a thimble
cotton thread
cello tape
string
nail file
strong ribbon
small nail clippers
safety pins
thin wire and wire ties
hair clips
a popper
two aspirin
a small pen
I have yet to pop in a needle in a safe housing, some Blu-Tac, and some thin elastic. Oh, and I popped in some jelly beans for a sugar fix!
I am hoping that some of these things may come in handy for her. I also popped a piece of round card in the bottom before putting everything in. This had her name and the number of her house and postcode written so you can see it underneath. In case her bag gets lost.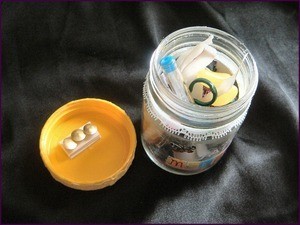 I think I'll make some for other members of my family and just change the contents to suit each person. This might be especially useful to my four brothers to keep in their cars and work vans. I'll make those ones look more manly though!
I hope you might make your own mending jar. Best wishes.
Source: I had a little mending 'box' when I was a child - I just updated it.
By Monique from Somerset, UK