February 28, 2006
0

found this helpful
I agree Diana, sometimes it takes patience and a lot of love to bring these precious pets around. All of my dogs and kitties are from rescue, and I have no idea of their backgrounds when I sign the papers.
They are well worth any little quirks they might have when we take them into our hearts and homes.
Jennifer
Northern Virginia
April 13, 2009
0

found this helpful
I have noticed that some breeds are more afraid of noises than other breeds are. I had a golden/shepherd mix that was scared of thunderstorms, and the shepherds seem to share that trait as well. My golden, actually taught my siamese cat mixes to be afraid of the thunder as well, and eventually they all huddled in the bathroom together with the cats on her back. It was not really funny, but it was interesting to see, I did a lot of therapy on getting them used to storms, but still never did quite eradicate the behaviors of running and hiding during storms.
Racer
November 4, 2009
0

found this helpful
Each pet is different, just like children in one family! Cats can be very skittish. I had one siamese who stayed in the dining room, under the table, for about 6 months. This was her space, and she would not mix with my other two cats. Finally they learned to be kind of friends and not hiss. This kitty was a love to my husband and me, but did not like anyone who came to the house!
November 7, 2009
0

found this helpful
A vet once told me years ago that if a puppy is taken away from its' mama too soon, it will be skiddish and afraid of loud noises, gun fire, fireworks, etc. Glad your little one is so blessed to be in such a loving and patient family. What a lucky girl!
October 28, 2010
0

found this helpful
If Maggie ever needs to crawl under the bed, I can always be found there during a thunderstorm. lol I just do not like loud and unexpected noises. I'm glad Maggie has adjusted. I think I'm too old to adjust now. Love Maggie
October 28, 2010
0

found this helpful
This is such important advice! Not just for dogs but for any pet, and especially important for those coming from rescue. We have no way of knowing exactly what these poor babies went through. And they have no way of telling us what they need or why. So like you said, we need to be very aware of the subtle and sometimes not so subtle hints they give us, and understand that they don't want to be or like to be that scared. But they are and they need us to be patient with them and love them through it.
Thank you so much for this post. I wish there was a way to write it across the sky so that everyone could read it on a daily basis!
You are an angel not only to your Maggie, but to all adopted and rescued pets!
October 28, 2010
0

found this helpful
Very true, patience will always reward you with traumatized animals. I have two rescue dogs, (amongst the other spoiled pooches!) and one lived under our buffet for the first six months whilst the border collie yelped and ran for her life at the sight of any stick, hose, vacuum cleaner hose or similar item. We knew she had been beaten for the first seven years of her life, but finally, after three years with us, she is now only slightly wary of sticks, but perfectly fine around brooms, mops etc. It was a wonderful day, the first time she didn't run for cover. Brought a tear to our eyes!
Cheers
Vicki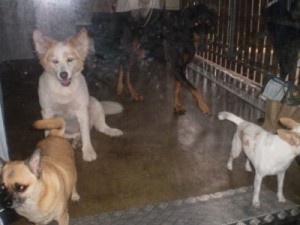 May 23, 2012
0

found this helpful
Thank you for rescuing instead of buying! And you once again prove that point that thru love and patience, animals will respond and be wonderful companions. Bless your family! xo
July 29, 2014
0

found this helpful
I brought home a rescued 5 year old Greyhound. After a few weeks he seemed a little depressed. The dog track I got him from were offering a video of the dogs that raced there. I called them & ordered a video of his races. When it arrived I popped it into the video player. I have a 50" TV. At first he didn't pay attention to it. But I kept pointing to him in the video and saying his name. After several attempts he started watching it.
Suddenly, as if a light bulb went on in his head he recognized himself! Immediately, his posture changed-his depression disappeared. It was as if he wanted me to know who he was - an athlete and champion racer. There's more to a dogs feelings than we think.